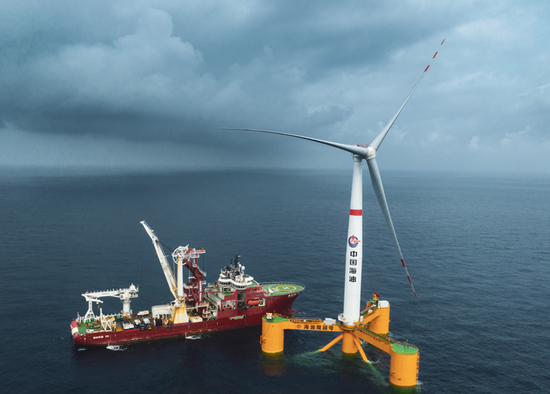 China's first deep-sea floating wind power platform, CNOOC Guanlan
(ECNS) -- China's first deep-sea floating wind power platform, CNOOC Guanlan, left Zhuhai in South China's Guangdong province for the waters of Wenchang in South China's Hainan province for installation on Sunday.
The platform will be used to supply offshore oil and gas production and will be installed 136 kilometers away from Wenchang.
CNOOC Guanlan is the first floating wind power platform in China with a working distance of more than 100 kilometers from the coastline and a water depth of more than 100 meters, according to Offshore Oil Engineering Corporation.
The platform has the capacity of 7.25 megawatts. After being put into operation, the turbine will generate 22 million kilowatt-hours of power annually, which can meet the electricity demand of 30,000 Chinese people for a year.
The generated power will be connected to the offshore oilfield group grid through a 5-kilometer-long dynamic sea cable, which will be used for oil and gas production. This will save nearly 10 million cubic meters of natural gas in fuel consumption and reduce carbon dioxide emissions by 22,000 tons per year.
CNOOC Guanlan marks a significant progress in China's key technology for deep sea floating wind power, and a critical step towards the green energy era in offshore oil and gas development, according to the group.