Special: W.E. Talk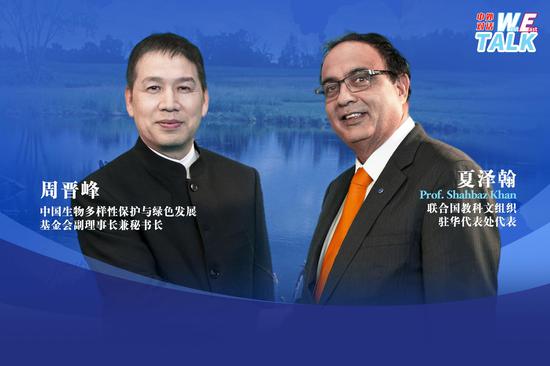 (ECNS) -- March 21 this year marks the 11th International Day of Forests. With the awareness of ecological priority and green growth increasing across China, its achievements in environmental protection are making considerable strides.
The forest coverage rate in China has reached about 24.02 percent, with 231 million hectares of forests, contributing about one-fourth of the world's newly added green area, making it the country with the fastest and largest growth of forest resources globally.
China has also made remarkable progress in biodiversity conservation. According to the Catalogue of Life China: 2022 Annual Checklist released in May 2022, wild populations of over 300 rare and endangered wild animals and plants grew. Wild populations of giant pandas and Tibetan antelopes also increased significantly, both downgraded from endangered to vulnerable. The total number of milu deer that once disappeared from the wild now exceeds 8,000in China.
Meanwhile, in December 2022, NASA released a new image of Earth. Compared with the iconic "Blue Marble" photo taken 50 years ago, the new image reveals clear changes to the face of the planet. The Antarctic ice sheet has visibly reduced in size, dark green vegetation in the African tropics has shrunk dramatically, and Madagascar's once-green landscape is now mainly brown.
In the face of such looming damage to biodiversity, what should the international community do to strengthen cooperation and cope with the crisis? What experience can the world draw from China?
Zhou Jinfeng, vice president and secretary-general of the China Biodiversity Conservation and Green Development Foundation, and Shahbaz Khan, director and UNESCO representative to the People's Republic of China, the Democratic People's Republic of Korea, Japan, Mongolia and the Republic of Korea, were invited to discuss the topic at the latest W.E. Talk.
Shahbaz Khan said China's experience with ecological conservation is very unique. It combines tradition with modernity, and brings philosophical thinking. China's leadership and concept of ecological civilization is very important to the world.
Zhou believes that with "ecological civilization" written into the constitution, China has established a series of methodologies for ecological conservation and formed a broad consensus among the public. China leads the world in the publicity of biodiversity.
Here's an excerpt of the dialogue.
China News Service: Who should play the leading role in stopping the trend of biodiversity loss?
Zhou Jinfeng: Biodiversity loss is a huge challenge facing mankind and the Earth, and all parties must join hands to cope with it. Governments should play a leading role, while the participation of societies, enterprises and individuals is also indispensable.
International organizations, all walks of life, and the public should actively make changes.
Shahbaz Khan: All countries must do it. And everyone in the country must do, right from the level of an individual to the level of a county, to the level of a city, to the level of a province, all the way to the central governments, and the governments must work together.
The simple reason is that all these issues are now interconnected so that's why we need more solidarity than ever before for everyone to work together.
It's not something that can be solved only by scientists, only by the government. We need businesses and we need everyone to work together.
China News Service: How should countries strengthen cooperation to protect biodiversity?
Zhou Jinfeng: First of all, countries need to strengthen policy coordination based on the Convention on International Trade in Endangered Species of Wild Fauna and Flora.
Secondly, data sharing will make a difference. Some species are migratory, such as the Beijing swift. When Beijing enters winter, the birds migrate to South Africa. There are various kinds of migratory species and invasive alien species like the desert locust, which is both an agricultural disaster and a threat to biodiversity. Countries should forecast, give early warnings, and assist each other in terms of providing satellite data, technology and information.
The third is technology sharing. Different countries have special technologies in different fields, such as in arid regions and rainforests. Technology sharing is crucial to global biodiversity protection.
Shahbaz Khan: In this regard, I would say we need to convene people and communicate together, like the example of COP15 in Kunming and going to Montreal.
What UNESCO is doing is that it has set up networks, such as the World Network of Biosphere Reserves (WNBR) and the world heritage sites and natural heritage sites, also very importantly, global geoparks where geodiversity is very, very important.
What's happening through these networks? We have, for example, with the global geoparks and the geodiversity networks, leadership from the mayors of those areas, the political leadership with the biodiversity-related networks, leadership at the local, at the provincial and at the national level, are bringing scientists but also local people, and also bringing different groups, especially the youth to be empowered with our sides as well.
China News Service: What inspiration can the world draw from China's experience in biodiversity protection?
Zhou Jinfeng: First, Chinese people have become more knowledgeable of biodiversity protection. The concept of ecological civilization has been included in the country's constitution. Guided by that constitution, China has systematically developed a series of laws and regulations.
Second, biodiversity protection has become a nationwide consensus in China. Objectively speaking, China is in an absolutely leading position in the world in terms of public understanding of biodiversity.
Third, an array of methodologies have been developed in China to promote the concept of ecological civilization. These methodologies share one core concept, which is that clear waters and lush mountains are invaluable assets. These invaluable assets are nature and biodiversity.
Shahbaz Khan: China's experience (in ecological conservation) is very unique. I would say it brings tradition with the modernity. It brings philosophical thinking. So ecological civilization is a very important concept given by President Xi Jinping.
If we think about ecology to be preserved on one hand and civilization on the other hand, and if we just think of one or the other, we will never be able to make progress in the world. But once we think ecological civilization, our harmonization of the existence of humans with our planet, that's the most beautiful part of it.
I would say ecological civilization is a very practical concept. It is a concept that can bring together global standards like the Convention on Biological Diversity. But very importantly, the global Convention on Biological Diversity with Chinese characteristics brings ecological civilization. So, China's ecological civilization concept is very important for the world.
China News Service: We should not expand the economy at the cost of the environment. What experience across the world do you think is worth promoting?
Zhou Jinfeng: To coordinate economic growth and environmental protection, we should raise awareness of the public, roll out corresponding laws and regulations, and call for more public participation. These are the three tools.
Here is an example. The power grid is considered to have a negative impact on birds. So, the State Grid Corp of China organized volunteers to patrol the network nationwide to minimize the ecological impact and ensure economic development.
China has created public-interest litigation on environment. Since 2015, the CBCGDF has filed a series of litigation cases to adjust a number of economic development projects, thus protecting the environment and biodiversity while developing the economy.
China News Service: In the future, how can we better protect the environment through technological innovation?
Zhou Jinfeng: As for science and technology, we can't say whether they are good or bad. Using the concept of ecological civilization as a guide, we should develop science and technology, to drive harmonious coexistence between humankind and nature, and to address current crises.
Under the guidance of ecological civilization, the all-round development of science and technology is the most important tool for us to solve current crises.
Shahbaz Khan: Science and technology is an evolving field. From science and technology, there are many products that have caused a lot of harm and they're still causing harm. But there is a lot of hope as well. We had the industrial revolution 4.0. I think we are going to Industry Revolution from 4.0to5.0, where we are looking into greener technologies, a better internet of things, a better use of artificial intelligence, the blockchain, and the way for us to look into large amounts of data using satellites and data mining abilities.
With these technologies, we can see whatever is happening in the world and where it is happening. Using satellites, using our better computing power, using better data mining through artificial intelligence, and using the internet of things for us to connect with the sensors, we should be able to see, and we are already deploying those devices.