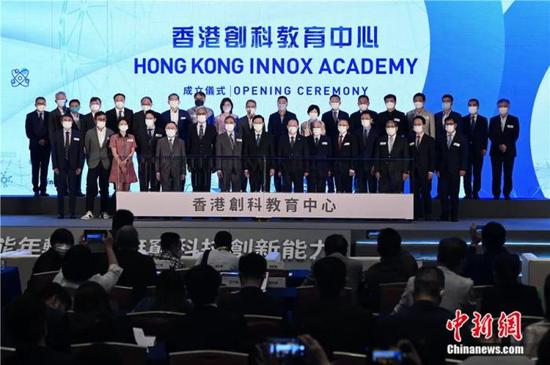 The opening ceremony of the Hong Kong InnoX Academy was held on July 12, 2022. (Photo: China News Service/Li Zhihua)
By HAN Xingtong, China News Service (CNS)
(CNS)--Promoting innovation and development has always been the top priority of the Hong Kong Special Administration Region (HKSAR) government. The 14th Five-Year Plan clearly supports Hong Kong in building an international innovation and technology (I&T) hub.
On the occasion of the 25th anniversary of Hong Kong's return to China, Xi Jinping — general secretary of the Communist Party of China (CPC) Central Committee, Chinese president and chairman of the Central Military Commission — inspected the Hong Kong Science Park on June 30,2022.
Why is this "the best time for Hong Kong to develop innovation and technology)?" In an interview with "W. E. Talk" of China News Service, Teng Jinguang, president of Hong Kong Polytechnic University (PolyU) and vice president of Greater Bay Area Association of Academicians (GBAAA), sorted out the advantages and disadvantages of Hong Kong's I&T development. He also made suggestions for building an international I&T center and integrating it into national science and technology development.
Excerpts from the interview:
CNS: On July 1, the 25th anniversary of Hong Kong's return to China, President Xi delivered an important speech in Hong Kong and paid a special visit to the Hong Kong Science Park. What opportunities and advantages do you see for development?
Teng Jinguang: President Xi, on behalf of the central government, attaches great importance to it, with high expectations, which is an essential driving force for Hong Kong's I&T growth in the future.
Its main advantage lies in its rich reserve of talents in basic scientific research. Several universities in Hong Kong have made achievements in this field. Hong Kong is a place where Chinese and Western cultures blend, in line with international standards in mechanism. It is relatively easy to attract overseas talents because English is widely used, and it is convenient to communicate with other countries. 
From the perspectives of planning, land release, talent policies and connectivity with the Guangdong-Hong Kong-Macao Greater Bay Area (GBA), Hong Kong's biggest I&T development opportunity in the future will lie in the northern metropolitan area.
CNS: The 14th Five-Year Plan clearly supports Hong Kong in building an international I&T hub. What efforts should Hong Kong make to develop innovation and technology?
Teng Jinguang: Despite all its advantages as an international financial center, Hong Kong has not developed a thriving I&T industry in the last few decades. The reason is that the chain of its industry is very long, from basic research to translational research and then to productization. Translational research and productization are very important, but Hong Kong has shortcomings in both. There are areas in which Hong Kong has a large enough market and capacity to develop its I&T industry, such as smart cities or services for the aging. However, other fields, such as microelectronics and artificial intelligence related to the industrial base, industrial chain, land supply and human resources, are restricted.
To develop the I&T industry in Hong Kong, we should first optimize land and talent policies, releasing more land. Only when land is available will there be land for industry. To attract talents to Hong Kong, we need to solve the housing problem, which also involves the land problem.
Hong Kong needs to enhance cooperation with the GBA and other cities on the mainland, as it has a small market in some sectors. Its scientific and technological research and development (R&D) achievements should be integrated with the market in the GBA and even in the whole country. In terms of manufacturing, Hong Kong also needs to integrate with the GBA's industrial chain and even the national market. For example, HAI Robotics Co., Ltd., a unicorn company cultivated by PolyU and a warehouse storage robot company, has few warehouses and a small market in Hong Kong, but it has developed well in Shenzhen.
The GBA and other cities on the mainland can make up for the deficiencies in Hong Kong's industrial chain and market. Without an industrial chain and market, it is difficult for R&D technology and application to succeed.
CNS: Many people in the I&T field describe Hong Kong's current I&T development prospects as a "golden age." Do you agree?
Teng Jinguang: Hong Kong's economic development has indeed reached the stage where the whole society has realized that on the basis of the original economic activities, including finance and real estate, it is necessary to promote some new economic activities and expand the I&T industry. At the same time, the country also needs to vigorously improve the level of science, technology and innovation capabilities. In this environment, we have formulated the GBA's development strategy, positioning Hong Kong as an international I&T center, as was explicitly mentioned in the14th Five-Year Plan.
Hong Kong has the advantages of basic research talents, an international environment and advanced financial systems. In the last few years, the HKSAR government has made endless efforts and invested more than HK$150 billion ($19 billion) to promote I&T development. The previous HKSAR government also launched InnoHK to support local universities, world-renowned universities and research institutions in setting up joint laboratories in the Hong Kong Science Park for R&D.
So I think there has never been a better time for Hong Kong to develop its I&T industry.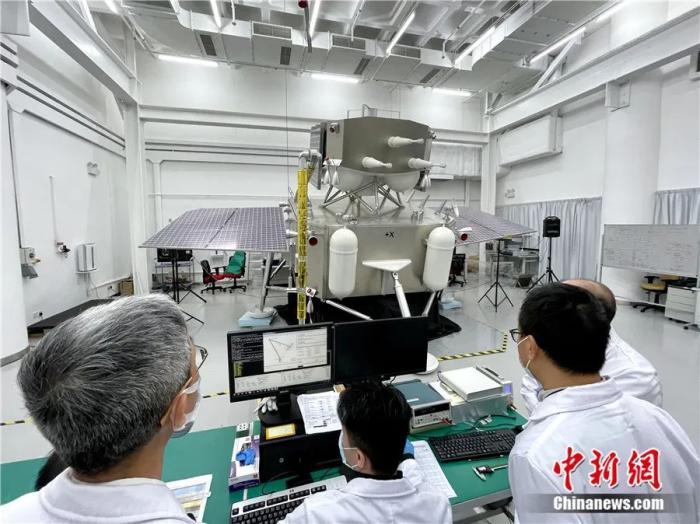 Photo shows the base of a research team at the Hong Kong Polytechnic University (PolyU) which developed the "Surface Sampling and Packing System" for Chang'e-5 probe in China's first lunar sample return mission. (Photo: China News Service/ Li Zhihua)
CNS: As you mentioned, the HKSAR government has invested a lot of resources in I&T development. Do you think it is enough for now? What other aspects do you expect the SAR government to support in the future?
Teng Jinguang: At present, resource investment is good, but it will definitely continue in the future. Hong Kong has strong basic research capacity and abundant talents, but the funding for basic research is still insufficient. At the eight universities funded by the University Grants Committee in Hong Kong, there are only about 5,000 places for Ph.D. students directly funded by the HKSAR government. Of course, the universities will also use other funds to recruit doctoral candidates. We need more government-funded doctoral places to cultivate more creative talents.
For the projects (General Research Fund projects), funded by the Research Grants Council for local university scholars to engage in basic research, the funding of each project has not changed in 20 years. Many scholars call for an increase. Furthermore, the HKSAR government also needs to increase investment in application and translational research so that the research results can be better transformed into productivity.
CNS: What achievements has Hong Kong made in the last years?
Teng Jinguang: Over the last 20 years, there has been an obvious achievement: namely, developing several local universities into world-class universities. In 2020, Hong Kong conducted a research assessment, which concluded that about 70% of the research work done by eight universities in Hong Kong reached world-leading or international-excellence levels. What a big difference in more than 20 years!
Second, Hong Kong has made new progress in various aspects. For example, the Hong Kong Science Park and the Cyberport have been completed and put into use. Hong Kong is preparing to collaborate with Shenzhen to build a Hong Kong-Shenzhen Innovation and Technology Park at the Lok Ma Chau Loop in Hong Kong. The Innovation and Technology Fun under the Innovation and Technology Commission has also supported many projects so that some applied R&D centers have been established. These have laid a solid foundation for Hong Kong's I&T growth.
CNS: Hong Kong has the unique advantage of its proximity to the mainland and strong international connections. Having worked overseas and taught in Hong Kong, you have an international academic background. Based on your own experience, can you talk about the similarities and differences between China and the West in the academic and industrial atmosphere? How can Hong Kong leverage its strengths to become an international I&T hub?
Teng Jinguang: In terms of the academic and industrial technology atmosphere between China and the West, it is difficult to specify. Generally speaking, the so-called West refers to some relatively developed countries, such as the United States, Britain, Canada and Australia, whose culture is different from China's. Modern science and technology were first developed there. China has made great progress in the last few decades, but there is still a gap between China and the West in some areas, and we still need to develop and learn. We also have a lot of advantages, such as the state system, which allows us to concentrate our forces on major tasks. China's high-speed rail development is a good example.
Hong Kong should be better integrated into the national innovation system and contribute to the country with its own strengths. When the country is in need, Hong Kong can also make contributions. This is a good opportunity for development. For example, PolyU's participation in the Chang'e-5 lunar exploration mission, which contributed to the nation's first sampling from the surface of the moon and brought the samples back to Earth, demonstrated strengths.
CNS: Hong Kong has gradually begun to participate in more state-level scientific research projects. What advantages does Hong Kong's scientific research have in promoting national innovation and technology development?
Teng Jinguang: There are 16 State Key Laboratories and six Hong Kong Branches of Chinese National Engineering Research Centers, which are part of the national innovation and technology system. Local universities can also participate in or undertake research projects sponsored by the governments or enterprises of various mainland cities through the Shenzhen Research Institute.
I believe that in the future the SAR government will have closer scientific research cooperation with the central government, so that more competent Hong Kong scientists can participate in key R&D projects planned by the country. The funds can be supported by both sides. It is also an important way to integrate Hong Kong's research strength into the national science and technology development program.
For PolyU, we hope to encourage more teachers to visit the Greater Bay Area and other cities across the country after the pandemic. If our research capabilities are needed and recognized, we can discuss the establishment of translational Research Institutes of Technology, providing space and funding for research, with PolyU providing technology and professional guidance, so that the basic research results of PolyU can be applied everywhere. This will also increase our scientific research motivation and resources, making greater contributions to the national development of science and technology.
CNS: The GBAAA was founded last year. As GBAAA vice chairman and one of its co-sponsors, what role do you think it will play in the Hong Kong's I&T development?
Teng Jinguang: Most GBAAA members are academicians of the Chinese Academy of Sciences (CAS) and the Chinese Academy of Engineering (CAE) working in the Greater Bay Area. CAS and CAE are both consulting groups that often make suggestions for national science and technology development policies. The academicians will also put forward policy suggestions to the HKSAR government and the central government on Hong Kong's I&T development and how to integrate it into the national technology development pattern. It will help Hong Kong better integrate into, and contribute to, national scientific and technological development.
Translated by LUO Shaotong