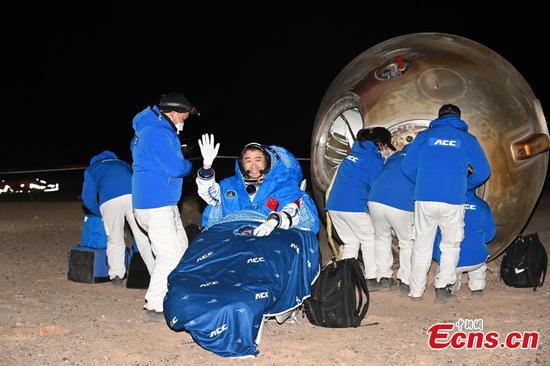 Astronaut Chen Dong is out of the return capsule of the Shenzhou-14 manned spaceship at the Dongfeng landing site in north China's Inner Mongolia Autonomous Region, Dec. 4, 2022. (Photo: China News Service/Wang Jiangbo)
(ECNS) -- The Chinese research team has developed many innovative technologies to help the Shenzhou-14 crew overcome the challenges of low temperatures and the dark night at the Dongfeng landing site, where three Chinese astronauts on board the Shenzhou-14 manned spaceship returned to Earth on Sunday.
It is the first time for China's manned spaceship to return to the Dongfeng landing site on a winter night.
The landing site is located in Badain Jaran Desert of north China's Inner Mongolia Autonomous Region, with extremely cold weather in winter. The night temperature here at the time of landing was nearly 26 degrees Celsius below zero, according to the weather forecast group at Jiuquan Satellite Launch Centre.
"We provided anti-low temperature protection to all fieldwork equipment. The vehicles were equipped with a low-temperature startup devices, communication devices with adequate backup batteries, while we also set up electricity facilities that can supply heating for eight hours," said Bian Hancheng, deputy chief designer of the landing site system.
Based on China's Beidou navigation satellite system, the team sent space-based, air-based, and ground-based measurement data to rescue helicopters, and established a search guidance system reaching space, air and ground, said Bian.
Helicopter photoelectric pods and small-micro optical equipment were applied to enhance the ability to spot the return capsule, he added.
Besides, air search team members, who are quite experienced with night flights, marked various terrain, landforms and dangerous objects in advance, and made a breakthrough in key technology regarding landing in the Gobi's soft sand at night.
The "rapid return mode" that Shenzhou-14 used led to fewer circles in orbit and shortened the return flight time, said Peng Huakang, technical supervisor of the recovery team.
After determining the landing time, the ground team prepared nearly 20 emergency plans in case of malfunctions in the returning process, landing environment and more.