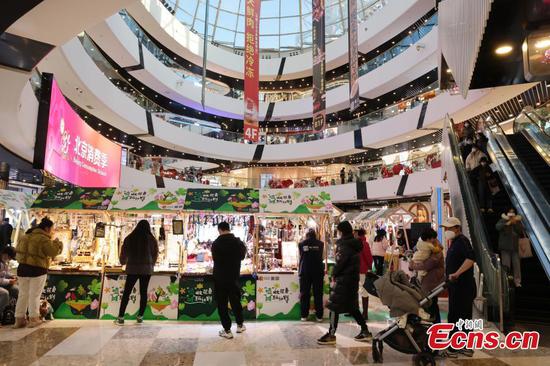 People shop at a mall in Beijing, Dec. 4, 2022. Shopping malls gradually restored business as Beijing optimized COVID-19 control measures. (Photo: China News Service/Yang Kejia)
(ECNS) -- Negative nucleic acid testing results are not required for taking public transportation and entering public venues such as parks and scenic spots in more cities around China, according to health authorities.
Shanghai's epidemic prevention and control work group released the latest policies on Sunday, stating that starting Monday negative nucleic acid testing results will not be required when taking public transportation within the city like the metro, buses and ferries or entering outdoor public spaces such as parks and scenic spots.
It is the latest to join other major Chinese cities like Beijing and Guangzhou in optimizing COVID-19 prevention and control measures.
Public transportation operators in Beijing are prohibited to reject passengers without negative nucleic acid test results within 48 hours since Monday, according to local health authorities on Friday.
Guangzhou, capital city of South China's Guangdong Province, has gradually resumed public transportation since late November. Nucleic acid test results are not required to take public transportation such as buses, metros and taxis.
Many districts in Guangzhou, such as Yuexiu, Tianhe, Haizhu, Panyu, and Liwan, made it clear that restrictions on mobility will be removed in non-high-risk areas. Dine-in services have been restored, and cultural museums opened gradually.
The Guangzhou Tower resumed all tourism and amusement projects from Friday, and tourists can enter the tower with negative nucleic acid test obtained within 72 hours.
Lingnan Flower Market, Guangzhou's largest flower wholesale market, has also been reopened to the public. "December and January are the peak season for flower sales, accounting for about half of the year's turnover. We hope business can gradually resume," said a flower shop owner.
At present, Guangzhou does not conduct mass nucleic acid testing in districts, but only frequent tests on personnel in risky positions. A reasonable number of nucleic acid test sites are set up for the public based on population figures.
Besides, individual housing loans are allowed to be postponed for citizens financially affected by COVID-19 for about one to 18 months at mainstream banks like Industrial and Commercial Bank of China, China Construction Bank and Bank of China.
Similar adjusted measures have also been adopted in Urumqi, Wuhan, Nanning, and Zhengzhou.
The Chinese mainland on Sunday reported 4,247 locally transmitted confirmed COVID-19 cases, the National Health Commission said Monday. Altogether 25,477 local asymptomatic carriers were newly identified.