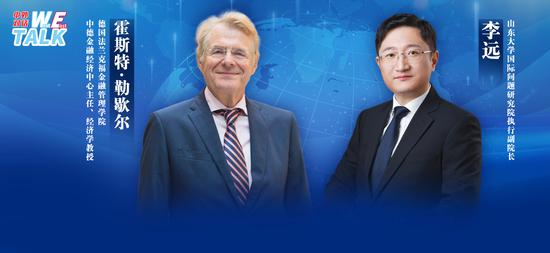 Special: W.E. Talk
(ECNS)-- The year 2022 marks the 50th anniversary of the establishment of diplomatic relations between China and Germany. What does Chancellor Scholz's recent visit to China mean for both countries? How has the bilateral cooperation over the past 50 years benefited both sides? How can the two countries keep the stability and long-term continuation of their relationship?
W.E. Talk invites Li Yuan, Executive Vice Dean of the Institute of International Studies of Shandong University and Horst Löchel, Professor of Economics, Academic Director MBA and Head of the Sino-German Centre at Frankfurt School of Finance & Management to discuss these topics.
Saying German Chancellor Scholz's China visit a good sign, Prof. Löchel pointed out that Scholz is against any decoupling from China or between China and Germany as well as China and Europe.
Prof. Li said that the visit can enhance the partnership between China and Germany and can help Europe pursue a relatively independent foreign policy. The only right choice for the two countries is to forge a close and enduring Sino-German all-around strategic partnership.
Here is an excerpt of the dialogue.
First European leader visit China after the 20th National Congress of CPC
China News Service: How do you think of the significance of Mr. Scholz's visit?
Horst Löchel: I think it's a very important visit of our Chancellor Scholz. He's very much in favor of business and trade between China and Germany and is against any decoupling from China or between China and Germany and China and Europe. On top of that, I think also it's now a long time since any foreign leader has visited China and has talked with the Chinese government. So I think it's a good sign in difficult times.
Li Yuan: In recent years, the U.S. has tried to give pressure on its European allies to take sides against China, to decouple with China, which could let the world divide again. Both China and Germany were victims of the Cold War in the past. Thus preventing the world (from) being divided again is within the fundamental interests of both countries. The visit of Chancellor Scholz can help Europe pursue a relatively independent foreign policy.
Bilateral competition and cooperation open up win-win results
China News Service: The past five decades have witnessed the benefits to China, Germany as well as the whole world brought by bilateral cooperation. Unfortunately, if you look at the German media, they always emphasize the competition from China. So do you think that Chinese companies and German companies can still maintain this win-win situation? Or will there be more and more competition?
Horst Löchel: The situation has changed in the last 5 to 10 years, perhaps. And this is very much related with the rise of China and the stronger competitiveness of Chinese companies. At the beginning, at the first 20, 30 years, the model was very easy. We had in China a lot of labor. Especially, cheap labors are very good for German companies to produce in China and export at least part of this production back to the world.
And there was not so much strong competition for German companies, especially not in terms of technology and in the core competencies of the German manufacturing industry, for example, chemistry and car industry. And this has changed. This is the normal way of division of labor. If countries are rising on their level in economic terms, they are more technology-sophisticated. That means also competition, more competition for German companies. But I think the German companies are not so much afraid of competition. I think they can take this race and develop further on their innovation either in competition with Chinese companies or in cooperation. Competition is business. So this is not a bad thing.
Li Yuan: Fifty years ago, China and Germany broke through the iron curtain of the Cold War and crossed the ideological divide to establish diplomatic relations with each other, which was very important for establishing a multi-polar world order. The relationship between China and Germany is proven to be fruitful and continues to benefit the people of both countries. Bilateral trade between China and Germany has grown from less than 300 million in 1972 to more than 230 billion in 2021. China has been Germany's largest trading partner for six consecutive years. And Germany has been China's largest trading partner in Europe for 47 consecutive years.
Nowadays, Made in Germany and Made in China are not only providing excellent quality products to the consumers, but also investment opportunities and millions of jobs. Over the past 50 years, by upholding the spirit of mutual respect, the two sides have become a successful example of mutually beneficial cooperation between countries with different social systems, cultures, and stages of development. In addition, both sides are strong supporters of multilateralism and oppose protectionism. With their cooperation, they can help the world to find the path of peaceful development and mutually beneficial cooperation.
The Belt and Road Initiative can bring greater opportunities for Sino-German cooperation
China News Service: As we know, the year 2023 will be the 10th year of China's Belt and Road Initiative. So I want to ask how do you think of the future development of this initiative?
Li Yuan: After 9 years of fast development, the Belt and Road Initiative (BRI) has achieved a lot of fruitful outcomes, and has become a popular international public good and the biggest- and widest-ranging platform for international cooperation. The BRI plays an important role in boosting inclusive growth and can bring great opportunities for Sino-German cooperation.
For example, the first China-Europe Railway Express launched in 2011 was between the Chinese city, Chongqing and the German city, Duisburg. I lived in Duisburg for more than 7 years and conducted several research projects to study the impact of railway connections on the local economy. We find positive effects of the China-Europe Railway Express on local development. Especially there are significant, positive effects on trade and development. Besides, the positive effects of the railway connections spill over into its surrounding regions. I believe, in the future, the BRI project will provide even larger room to expand economic integration and interconnected development between European and Asian economies.
Horst Löchel: You have to see Duisburg is very much a city in the west and was once one of the country's coal and steel industry powerhouses. It has very much suffered somehow from the structural change of the German economy. People there have to find new jobs and new employment possibilities, and new business possibilities. I think this connection between China and Germany, let's say, a center in Germany, with Duisburg in this Belt and Road Initiative, has helped Duisburg very much to recover to stabilize economically and of course this has also positive effects on other areas around Duisburg.
How can Germany continue its rational and pragmatic China policy?
China News Service: China usually describes Germany's political style as "pragmatic". And what kind of relationship between both countries do you think can better meet the interests of both countries?
Li Yuan: I think rationality is a virtue of the German people. Politicians are rational towards politics. Angela Merkel acts as pragmatic, in terms of economic interests. Germany should maintain close ties with China, because the German economy is export-oriented with the oversea market as the biggest market for German products. Germany has many shared interests with China. So China's growth should be seen as an opportunity instead of a challenge. But also notice that there are many differences between Germany and China. It is no easy job for Germans to understand a country like China.
Nowadays, one should recognize and embrace the diversity of the world where no two countries follow the same institutional setup. China and Germany face common global challenges from the pandemic to climate change, from a struggling world economy, to the long-term peace between nations. We need to be open-minded toward our differences, to build trust and cooperate with each other to solve these common challenges.