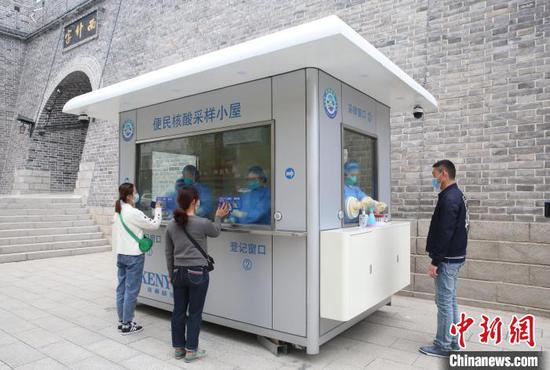 Citizens take nucleic acid testing in Huangyuan County, Qinghai. (Photo provided to China News Service by the government of Huangyuan County)
Special: Battle Against Novel Coronavirus
(ECNS) -- A total of 40 mobile nucleic acid testing stations arrived in Huangyuan County, Xining City, Qinghai Province, on Wednesday night, and were installed in townships overnight, marking the establishment of the first 15-minute nucleic acid testing circle in Qinghai.
These test sites allow all residents to reach one station within a 15-minute walk from their homes or offices.
With a total value of two million yuan (about $300 thousand), they were donated by Nanjing, capital of Jiangsu Province.
Developed by Nanjing city independently, they have been improved for several times in order to adapt to the plateau climate of Qinghai.
Each mobile house is equipped with a positive pressure system, which can stop outdoor air from entering the enclosed space, thus effectively preventing the virus invasion.
And air conditioners and fresh air systems can create a safer and more comfortable working environment for sampling personnel.
Meanwhile, smart equipment like incubator and interphone will help finish non-contact sampling within one minute.