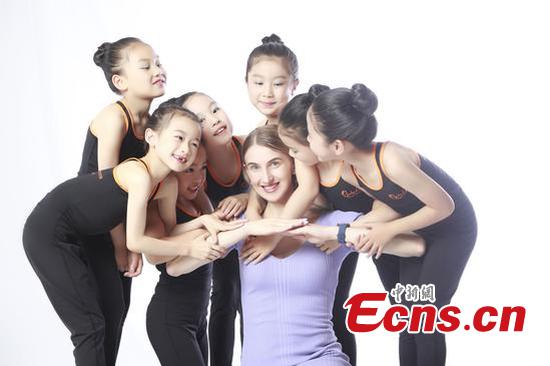 Oksana and her students. (Provided by the interviewee)
By LI Shuzhi
(ECNS) SHANGHAI -- After a conference call, Oksana said "I'm even busier than usual." As a rhythmic gymnast, Oksana, a Russian born in Kyrgyzstan, runs her own dance studio in Shanghai.
Since the neighborhood was locked down, community group purchase, personal protection against the pandemic, and remote working have become her new normal.
During the special period, community support touched Oksana.
"I've run out of detergent. May I ask where I can get some?" asked the new member of the neighborhood WeChat group. "I have some at my house. You can have it." What surprised to her was the hospitality of her neighbors.
"There was a time I wanted to buy milk. When I read the message in the chat group, the group purchase had ended." Oksana planned to wait for the next round, but her neighbors responded enthusiastically once again.
"Guess how many cartons of milk I got today? Five!" Oksana told her neighbors that she had enough milk, but they urged her, " Just keep it. We know milk is a key part of your diet."
When the residents' committee handed out supplies, Oksana was stumped by the stem lettuce inside the package. "I've never had this kind of vegetable before, nor do I know how to cook it." Oksana took pictures and asked her neighbors for help.
A variety of recipes then popped up in the chat group. "Following their advice, I peeled the lettuce, cut it into small pieces, and boiled it. In the end, it came out in the form of a warm salad." Oksana posted pictures of her "stem lettuce salad" and received a lot of "likes" from her neighbors.
Oksana found the interaction between the neighbors sweet. "So, I was thinking about doing something for my nice neighbors?" As the founder of an international dance center, Oksana decided to launch a free online course. During the pandemic, she wanted to enrich their lives with aesthetics and art.
Oksana announced the news in the chat group and asked her neighbors to invite their friends. "In just five minutes, the quota of 25 people for the first class was filled," Oksana said with a smile. "This is the fastest 'Groupon' we've ever had."
When the course started, Oksana led her neighbors to dance through a video conference. The innovative class received positive feedback. "Many people thanked me after the class, saying that they had stayed indoors for a long time and felt good about doing exercise."
"During the lockdown, I plan to hold a weekly dance class for the community. If you're available, welcome to join us." With a smile, Oksana sent our reporter an invitation.
"This is a special period in our lives, and we should stay positive," Oksana said. "Things will get better when we overcome the pandemic."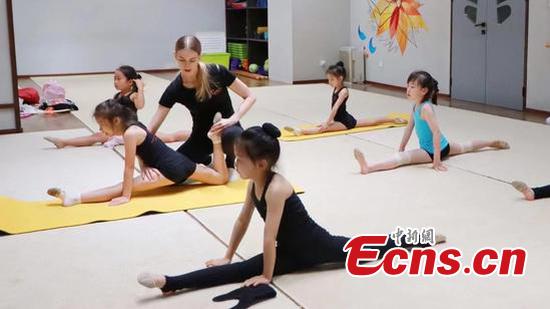 Before the COVID-19 outbreak, Oksana was teaching students. (Provided by the interviewee)