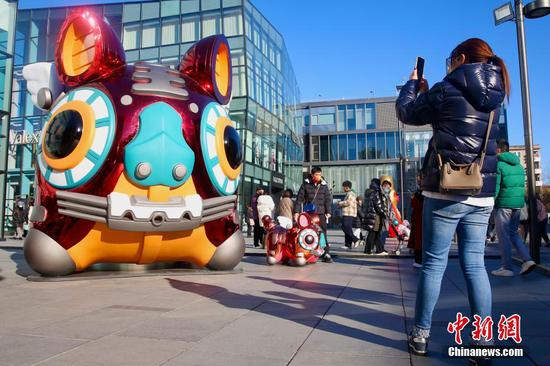 Tiger-themed sculptures attract people in front of a mall in Beijing, February 1,2022. (Photo/China News Service)
(ECNS) – China has released a list of 17 cities with a permanent resident population of over 10 million in 2021, according to the relevant demographic data for China last year.
They are Chongqing, Shanghai, Beijing, Chengdu, Guangzhou, Shenzhen, Tianjin, Xi 'an, Suzhou, Zhengzhou, Wuhan, Hangzhou, Linyi, Shijiazhuang, Dongguan, Qingdao and Changsha.
Harbin, capital of northeast China's Heilongjiang Province, whose population dropped to 9.885 million at the end of 2021, was removed from the list, according to local authorities.
Among the 17 cities, Chongqing is the largest with a permanent resident population of over 30 million, the only city to exceed this figure.
Data shows that permanent residents in the city reached over 32 million in 2021, 7.23 million more than in Shanghai. Economic growth and improvement of the city's image are believed to be the main reasons why it attracts more and more residents from across China, according to the statistics bureau of the city.
Wuhan, capital of Hubei Province, sees the largest increase of 1.2 million to reach 13.65 million by the end of 2021.
Beijing, Tianjin, and Shijiazhuang have seen negative growth of permanent resident population in 2021.