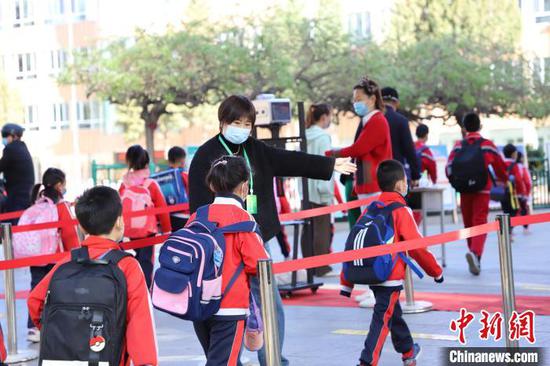 Sdudents return to school from winter vacation in Hohhot, north China's Inner Mongolia Autonomous region, April 26, 2022. (Photo/China News Service)
(ECNS) -- The new curriculum standards for compulsory labor education (2022 edition) issued by the Ministry of Education of China will be officially implemented in primary and secondary schools from the fall semester of 2022.
According to the curriculum standards, students in primary and secondary schools will learn basic life skills like cooking and household cleaning, and experience both agricultural and industrial production, such as growing vegetables and home appliance maintenance, to enrich their life experience, temper their will and cultivate a positive view of labor and hard-working spirit.
The curriculum standards also regulate that there will be at least one lesson in a week to make relevant activity plans, teach students skills and summarize experience.
Ten groups of tasks under three categories, basic life skills, productive labor practice, and service labor, are included among curriculum standards.
Basic life skills include organization and storage, household cleaning, cooking, and the use and maintenance of home appliances. Productive labor practice consists of industrial and agricultural production labor practices, traditional crafts learning, and new technology experience and application. The service labor course covers the modern service industry and public welfare labor and voluntary services.
Schools can arrange corresponding lessons based on the choices of students.