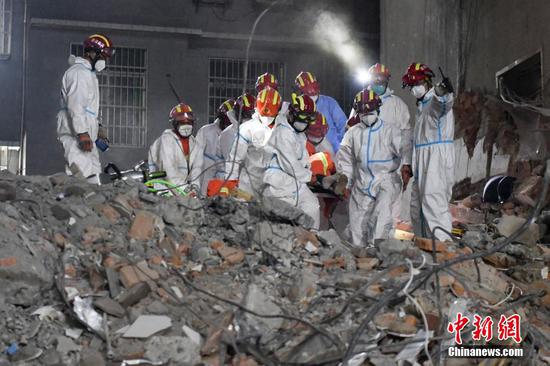 Photo shows the accident site of a collapsed self-built residential structure in central China's Hunan Province. (Photo/China News Service)
(ECNS) -- Ten people have been rescued and 53 confirmed dead in a self-built residential structure collapse in central China's Hunan Province as of Friday, according to local authorities at the press conference.
The rescue operations have ended at 3 at 3:03 a.m. Friday.
Local officials expressed deep condolences to all the victims, sincere sympathy to the bereaved families and the injured and apology to the whole society.
Changsha city, where the collapse happened, is gathering experts from several hospitals across China to set up a treatment panel to save the injured, and will properly cope with the aftermath including family appeasement and resettlement, said Wu Guiying, Party chief of Changsha Municipal Committee.
The city will make a thorough investigation into the cause of the accident, intensify security inspections of self-built houses, and hold relevant persons accountable according to the law, Wu added.
The building collapse took place in Wangcheng District of Changsha on April 29.