Special: 2022 Winter Olympics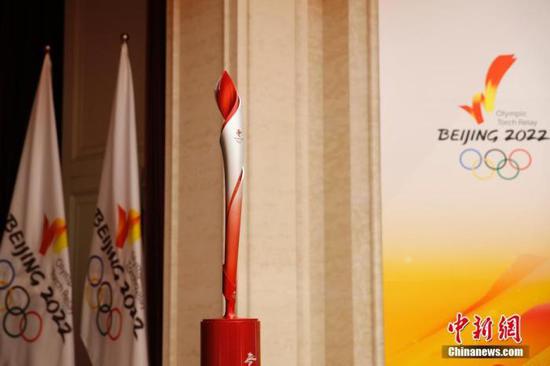 Photo shows the torch for the 2022 Winter Olympics. (Photo/China News Service)
(ECNS) -- The Beijing Organizing Committee for the 2022 Olympic and Paralympic Winter Games released all the locations on the Winter Olympics torch relay route on Friday.
The relay is scheduled between Feb. 2 and 4, 2022 and will be hosted in the three competition zones, including four places in downtown Beijing, two in the capital's Yanqing and five in Zhangjiakou of Hebei Province.
Technologies with wide application prospects like robots and autonomous driving will be used during the relay, according to Xu Zhijun, deputy secretary of the Beijing Organizing Committee for the 2022 Winter Olympic and Paralympic Games.
The detailed relay plan is as follows:
The torch relay launch ceremony will be held in Beijing on Feb. 2, 2022. The relay itself will begin in Beijing Olympic Forest Park and Winter Olympics Park.
On the morning of Feb. 3, the torch will be delivered at the Great Wall of Badaling and the International Grape Exhibition Garden in Yanqing; on the afternoon of the same day, Nihewan Ruins, ChongliFulong Ski Resort and other locations in Zhangjiakou will see the relay.
On Feb.4, the torch will be relayed at the Summer Palace, Beijing Olympic Forest Park and Grand Canal Forest Park in Beijing.
The relay, which will end on the afternoon of Feb. 4, involves about 1,200 torchbearers for the Winter Olympics and 600 torchbearers for the Paralympics.
The organizing committee will also launch activities on Weibo, Douyin, Kuaishou and bilibili, where netizens could obtain the official electronic certificate of "Online Torchbearer."