Special: 2022 Winter Olympics
(ECNS) -- As China's first international-standard ski jumping center, the National Ski Jumping Center, known as "Snow Ruyi", is special in its location and material transportation methods during the construction.
Sitting in the valley, "Snow Ruyi" is ideally suitable for ski jumping. In addition, the bowl-shaped valley also shields most of the prevailing winds in winter, ensuring the athletes' safety and performance, according to Wang Jingxian, facility manager of the National Ski Jumping Center.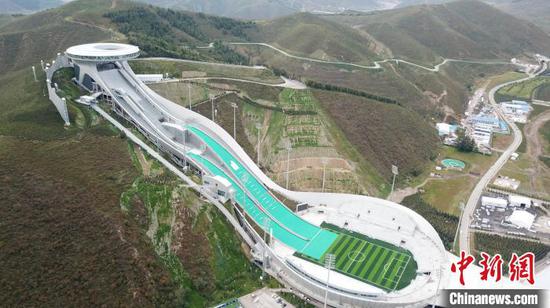 The National Ski Jumping Center, Snow Ruyi. (Photo: China News Service/Zhai Yujia)
Originally, "Snow Ruyi" was designed to be built next to a mountain. But the designing team altered the design after adopting the suggestions from the designing experts of the International Ski Federation.
Besides, in order to implement the concept of "Green Olympics" by reducing the damage to the local environment as far as possible, the construction team chose to transport the construction materials by five tower cranes instead of building a road by felling more than 5,000 trees, explained Jiang Xiupeng, the project manager from China Railway Construction Engineering Group.
The construction team has overcome obstacles, such as high safety risks during construction, more material consumption and low transportation efficiency, to finish the project while preserving the environment at the most.