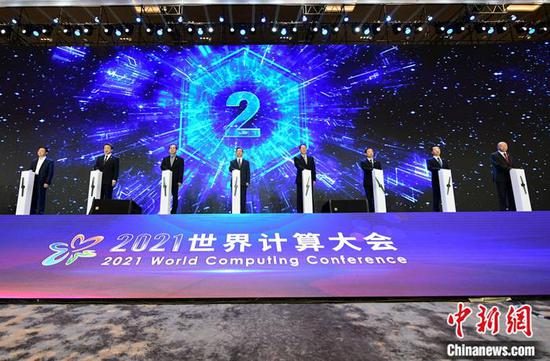 The 2021 World Computing Conference kicks off in Changsha on Friday. (Photo/China News Service)
(ECNS) -- The 2021 World Computing Conference kicked off in Changsha, central China's Hunan Province, on Friday.
Focused on computing and digital technology, the conference consists of an opening ceremony, 12 forums and activities, two competitions, and an exhibition of computing industry innovation and applications.
Thirty-one academicians from home and abroad, a dozen experts, scholars and entrepreneurs, and over 400 top people in the industry have been invited to attend the event.
In recent years, China's computing industry has shown strong innovation and made breakthroughs such as high performance computing chips and the Jiuzhang quantum computer. The country's computational power supply has also improved.
Official data shows that in 2020, the scale of China's computational power ranked second in the world. There are 186 Chinese computers on the newly released list of the world's top 500 supercomputers, ranking first in the world since 2016.
Global resources and factors of the computing industry have gathered in Hunan quickly since the 2019 World Computing Conference was held here. The volume of Hunan's digital economy reached 115 billion yuan (about $17.8 billion), up by 13.4 percent year on year, ranking fourth in China and accounting for 27.5 percent of GDP.
This conference is a new start to carry out cooperation with enterprises and experts in the global computing industry, so as to jointly promote the upgrading of computing technology, said Xu Dazhe, a local official.