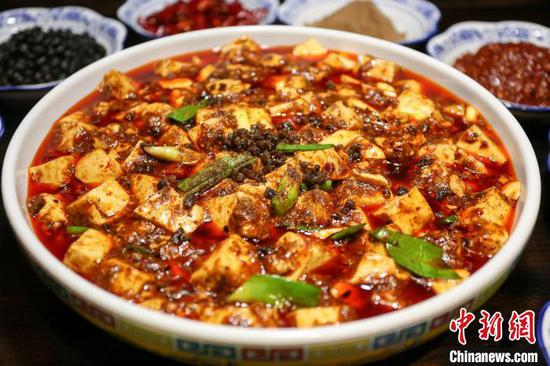 Mapo beancurd -- one of Sichuan cuisine. (Photo provided to China News Service)
(ECNS) -- Cooking skills to produce Sichuan cuisine was listed in the fifth batch of China's national intangible cultural heritage recently, according to a local newspaper.
Sichuan cuisine, one of the Eight Chinese culinary specialties, comprise more than hot spices, which account for less than one-third of basic flavorings.
Sichuan people love aromatic food, and Sichuan cuisine has 24 flavors, including salty, sweet, sour, bitter, spicy and fresh, said Zhang Huiqiang, deputy curator of Sichuan Cuisine Museum
Cooking skills related to Sichuan cuisine integrate the wisdom of local people, as an important part of Bashu culture along with the Sichuan dialect and opera, Zhang added.
Almost all parts of Sichuan have their own fermented products like bean paste in Pixian, soy sauce in Zhongba and Baoning vinegar in Langzhong. Fermentation helps preserve food and adds a distinctive flavor to Sichuan cuisine, according to Zhang.
"The inclusion of Sichuan cuisine cooking skills as a national intangible cultural heritage is conducive to promoting its unique value, enhancing Sichuan people's cultural identity and cohesion, protecting and inheriting excellent traditional culture and expanding the influence of Bashu culture and Chinese culture in the world," he said.