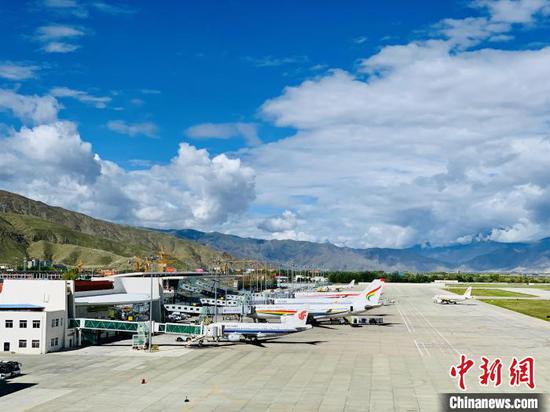 Several planes at an airport inTibet Autonomous Region are about to take off. (Photo: China News Service)
(ECNS) -- The Lhasa-Yichang-Sanya route was officially opened by Tibet Airlines on Monday. Air routes launched by Tibetan civil aviation have topped 140 so far.
China has seen a full recovery of its domestic tourism industry in 2021. From January to April, Tibet's civil aviation recorded 18,486 takeoffs and landings of transportation volume, a 1,855,000 passenger throughput, up by 57.1%, 79.1% year-on-year respectively, according to statistics of Tibet Autonomous Regional Administration of CAAC,
More air routes to popular provinces and cities in Tibet will be opened depending on tourist demand.