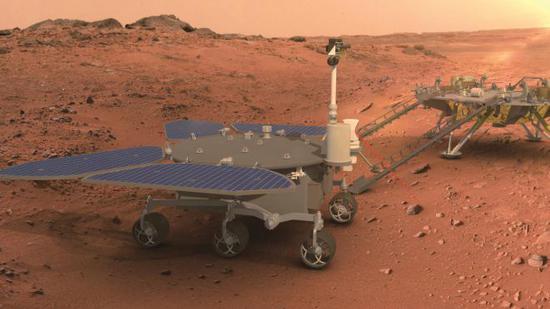 A rendering of China's first Mars rover. (Photo/CCTV)
(ECNS) -- China finished the initial evaluation of global name collection for its first Mars rover on Jan. 18, according to Lunar Exploration and Space Engineering Center, China National Space Administration (CNSA).
The 10 names -- Hongyi, Kylin, Nezha, Chitu, Zhurong, Qiusuo, Hot Wheel, Zhuimeng, Tianxing and Xinghuo -- were selected as alternative names.
All the 10 names are related to traditional Chinese culture.
Hongyi, stemming from The Analects of Confucius, means breadth of mind and vigorous endurance. Kylin, Nezha, Chitu, Zhurong and Hot Wheel originate from ancient Chinese mythological stories. Qiusuo, selected from Lisao, a work by patriotic poet Qu Yuan from the Warring States period, means a person should keep searching the road ahead. Zhuimeng means to pursue a dream, Tianxing relates the motion of celestial bodies while Xinghuo means a single spark can start a prairie fire.
A total of 39,808 effective names were collected from July 24, 2020 to August 16, 2020, among which 38,340 were submitted via designated apps and 1,468 by letter.
The last three names, chosen from six consisting of three judge-evaluated names and the top three voted for by the public, will be submitted for approval. The official name for the Mars rover will be released before the Tianwen-1 probe lands on Mars.
A new round of voting will start from 12:00 on Jan. 20, 2021. The public can vote through designated apps before 24: 00 on Feb. 28, 2021.
The Tianwen-1 probe will enter the Mars orbit around Feb. 10 this year as planned to prepare for landing.