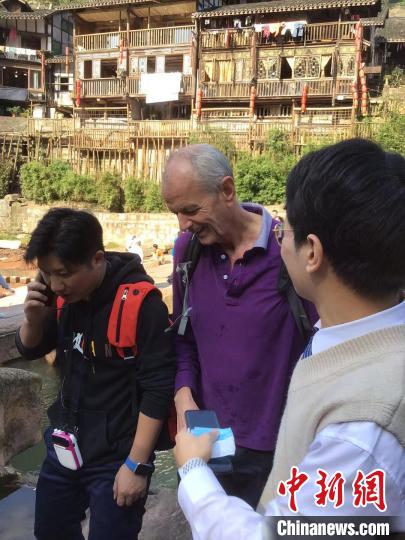 Stephen Ellison (central) is the newly appointed British Consul General in Chongqing. (Photo: China News Service)
(ECNS) -- Video footage showing an elderly foreigner diving into a river to save a Chinese girl has gone viral.
The elderly man, or Stephen Ellison (Chinese name Shi Yunsen), is the newly appointed British Consul General in Chongqing, the consulate confirmed Monday.
The consulate said Ellison was visiting Zhongshan Ancient Town in Chongqing on Nov. 14 when the accident occurred.
The girl accidentally fell into the water while playing by the river. After struggling for a few seconds in the fast-moving current, she lost consciousness. Hearing cries for help, the 61-year-old consul general immediately jumped into the water.
He held onto a lifebuoy attached to a rope that had been thrown to him by passers-by, who then pulled the girl to safety.
Ellison took office in Chongqing in early October. He has worked and lived in China for nine years. As an experienced civil engineer, he participated in the construction of Hong Kong-Zhuhai-Macao Bridge.
The consul general likes art, including Chinese calligraphy and traditional Chinese paintings, and collects Chinese porcelain. Besides, the ardent skier and cyclist once crossed the Himalayas by motorcycle. He further won the championship of his age group during Beijing International Triathlon in 2019.
"I'm looking forward to working and living in Southwest China in the next few years," Ellison said. He hopes cooperation between Britain and Southwest China in various fields would continue to bear fruit in the next few years.