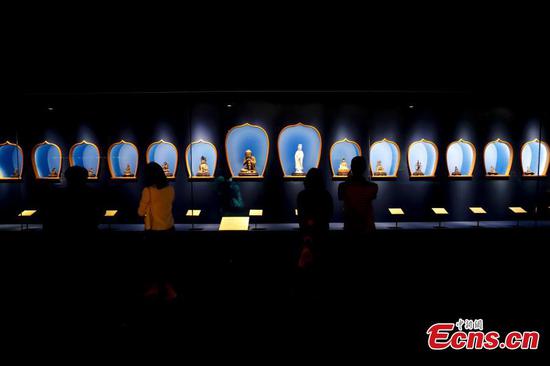 Artifacts from the collection of the Vatican Museums are on show at the Palace Museum, May 28, 2019. (Photo/China News Service)
Special: 70th birthday of PRChina
(ECNS) -- Shan Jixiang, former curator of the Palace Museum, said in Beijing on Wednesday that a partnership with Chinese telecom Huawei will enable the museum to enter into the 5G era and create greater experiences for visitors.
The cooperation will improve monitoring of the movable and immovable artifacts in the museum, which is also known as the Forbidden City, Shan said.
Within a few months, people will be able to use their mobile phones to learn about the exhibitions at the museum in greater detail as well as access information such as the number of visitors at a site in real time, he added.
In the past four years, the number of younger applicants wanting to learn about maintaining and repairing cultural relics at the museum has grown rapidly, Shan said. This year, for example, only 88 out of 40,000 applicants were admitted to the museum's program.
The museum has also launched a variety of exhibitions showcasing cultural relics and introduced immersive activities to better engage visitors who are more tech-savvy.
More than 80,000 people visited the museum daily from January to March, which is usually the off-season, and more than half of those visitors were under 30 years of age, according to Shan.
The museum has opened 80 percent of its areas, attracting more and more young visitors keen to experience the charm of traditional culture, Shan said.
Shan retired as director of the Palace Museum in April and was appointed director of the Palace Museum Academy in May.