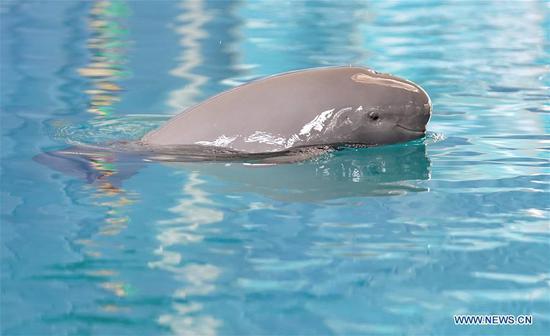 A little Yangtze finless porpoise code-named F7C plays in the breeding pond at the Institute of Hydrobiology under Chinese Academy of Sciences in Wuhan, central China's Hubei Province, June 2, 2019. (Photo/Xinhua)
(ECNS) -- The world's second artificially-bred Yangtze finless porpoise, codenamed F7C, celebrated its first birthday in Wuhan, Central China's Hubei Province on Sunday.
The Institute of Hydrobiology under the Chinese Academy of Sciences and Wuhan Baiji Conservation Foundation prepared a special birthday cake and hosted a party to mark the occasion.
Wang Chaoqun, a training head at the institute, said the male finless porpoise is nearly 130 cm long and weighs approximately 50 kg, and that it is in good health and growing normally.
It was unrealistic to expect the entire Yangtze finless porpoise population to be revived through artificial breeding, Wang said, but researchers will continue to work to increase people's understanding of the species and better guide field conservation efforts.
In 2005, the institute successfully bred its first Yangtze finless porpoise using artificial breeding. Named Tao Tao, the animal is also in good health and has contributed in the reproduction of a second generation.
Among the most endangered animals native to the Yangtze, the finless porpoise has first class national protection in China. Affected by human activities, the species population has decreased sharply. Data in 2017 showed there were approximately 1,012 finless porpoises.