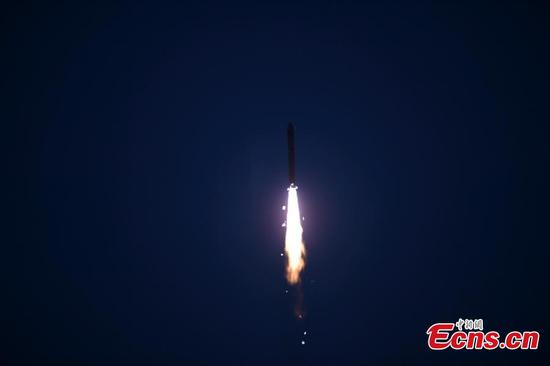 China sent Shiyan 6 satellite into space on a Long March 2D carrier rocket from Jiuquan Satellite Launch Center in Gansu province at 7:40 am on Tuesday, along with four micro satellites. (Photo: China News Service/ Wang Jiangbo)
(ECNS) - China's BeiDou navigation satellites began offering global services on Thursday, said Ran Chengqi, director of the China Satellite Navigation Office, at a press conference in Beijing.
A basic system with nearly 20 orbiting BeiDou-3 satellites is now in place, expanding the services from regional to global users. The system can provide reliable, all-weather and all-time positioning, navigation and timing services.
BeiDou-3 satellites can send signals that are compatible with other satellite navigation systems and provide satellite-based augmentation, as well as search and rescue services in accordance with international standards.
Ran said this year has seen an intensive launch of BeiDou satellites, with 19 satellites in 10 launches. Positioning accuracy of the BDS-3 system is 2.5 meters in the Asia Pacific region and ten meters across the globe.
Over 6.17 million domestic vehicles nationwide and 35,600 postal services or courier vehicles have installed or become compatible with the BeiDou navigation system. Smart cars equipped with BeiDou's high-precision navigation service will hit the market next year, according to Ren.
The home-grown system has been increasingly used in international markets. BeiDou has offered services in countries including Russia, Myanmar, Laos, Cambodia, Thailand, Indonesia, Pakistan, Kuwait, Algeria and Uganda. High-precision BeiDou products have been exported to 90 countries and regions.
In February of year, the BeiDou system was listed on a global satellite search and rescue implementation plan by COSPAS-SARSAT, an international satellite system for search and rescue.
Named after the Chinese term for the Big Dipper, the BeiDou system started serving China in 2000 and the Asia-Pacific region in 2012. China started to construct the third-generation of BeiDou system in 2017.
BeiDou-3 will be further improved in future, with 11 more satellites to be launched before 2020. Then by 2035, BeiDou will establish a more intelligent, integrated positioning, navigation and timing system.