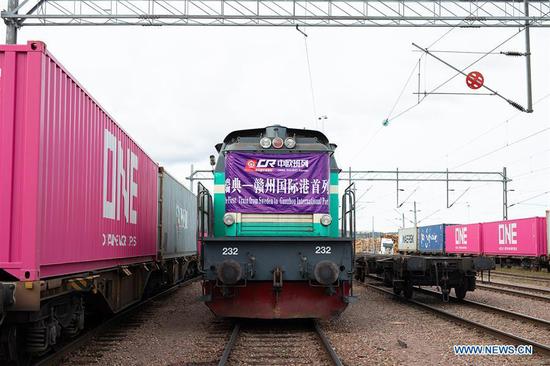 Photo taken on Sept. 17, 2018 shows the train in Stockholm, Sweden. (Photo/Xinhua)
Special: Belt and Road Five Years
(ECNS) - The number of freight trains on the China-Europe rail service network, a crucial part of the Belt and Road initiative, has now reached 11,000 trips, said Ning Jizhe, vice-chairman of the National Development Reform Commission, on Tuesday.
Freight rail services have 65 routes that link Chinese cities with 44 others in 15 European countries.
These services transported IT goods from southwest China's Chongqing municipality to Europe at first, then gradually developed into a new logistics solution for international trade. Chinese cities including Chengdu, Zhengzhou and Yiwu now have freight trains to Europe.
Tang Tingjie with the Taiwan-based Quanta Computer's manufacturing site in Chongqing said China-Europe freight trains save transport time for the company's computer products by two-thirds in comparison with ocean shipping and reduce expenses by 70 percent compared to air transportation.
Liu Guiping, deputy mayor of Chongqing, said more goods including automobiles and parts, machinery, coffee beans, industrial supplies and daily necessities are transported by the freight trains. To date they have shipped 920,000 containers.
Ning said the rail network has strengthened Eurasia land links, promoted the opening of China's inland areas and contributed to international cooperation in production.