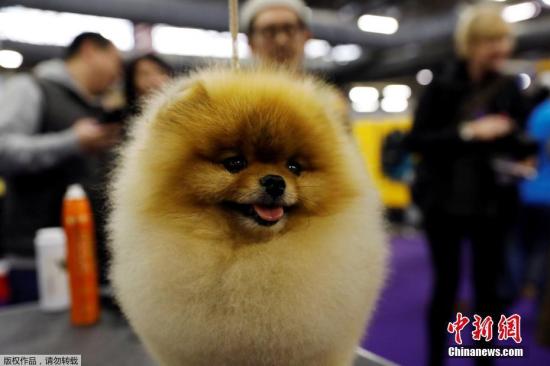 A pet dog at a competition. (File photo/Agencies)
(ECNS) - A recent report found that China's consumer market related to pets reached 170.8 billion yuan ($24.9 billion) in 2018, an increase of 27 percent from a year earlier, according to the 2018 White Paper on China's Pet Industry.
The number of pet owners in China's cities and towns now totals 73.55 million, the white paper says. Among them 33.9 million are dog owners, 22.58 million are cat owners, and there are also aquarium pet owners.
It shows that 87.5 percent of dog owners were women, half of them with a bachelor's degree or above and the majority employees in companies. The cat-owning group is mainly white-collar workers and students, with young people more inclined to have cats.
Owners are now prepared to lavish money on pets, with the estimated annual spending 5,016 yuan for each animal in 2018, up 15 percent from the year previous.
Data also showed that of the total spent on dogs, 36 percent went to food and 28 percent for services. On average, a cat owner spent 44 percent on food and 18 percent for services including medical care.
Bath shampoo, other fur care items, toys, collars and leashes were the main products dog owners bought. The top three cat supplies were found to be litter, toys and scratch boards.
About 53 percent of pet owners said they are not satisfied with veterinary services. Leading reasons were the lack of supervision over medical fees and qualified veterinarians.