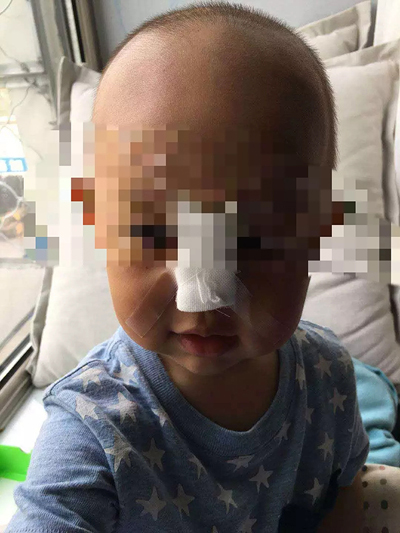 The baby was hurt by a drone at a park in Beijing's Chaoyang District on May 9, 2018. (Photo provided to Tianjin Daily)
(ECNS)-- The mother of a 23-month-old baby seriously injured by a drone flown by a German teenager in a Beijing park has urged his father to apologize while seeking a legal solution.
Qi Liying (alias) said her son was hit by the drone at Xiaotaihou River Park in Beijing's Chaoyang District on May 9. Local police later confirmed the 14-year-old drone user is a Gernm and his father, known only as Daniel, is an engineer at Mercedes-Benz in Beijing.
The boy said he had no knowledge of his drone having hurt anyone while his father said the boy should take responsibility for what he had done, though refusing financial compensation, Qi said.
The mother said she had to bring her son to three hospitals over the period of five hours to receive the right treatment and that she had to beg other patients to allow her to jump the queue and treat the 9-centimeter cut as soon as possible.
Surgeons had to make seven sutures on the baby's face and also suggested he avoid direct sunlight for three years, according to Qi. Now the baby bursts into tears at midnight every day, causing the family considerable stress.
Frequent visitors to the park confirmed the boy had flown the drone at least three times over the past five months in an area with a no-fly zone restriction, Shanghai-based The Paper reported.
An expert said the drone's GPS system might be intentionally compromised, which is illegal in China.
Daniel has reportedly hired a lawyer to deal with the matter, but the mother said he should at least make an apology and admit to the mistake.