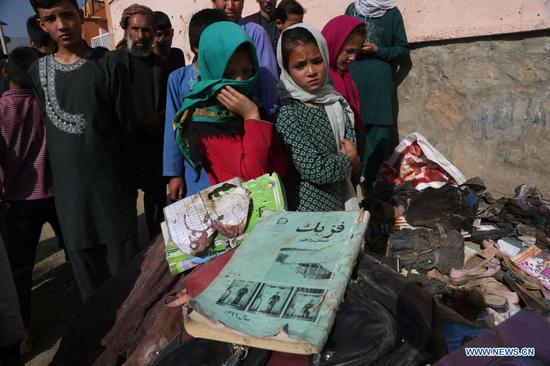 Photo taken on May 9, 2021 shows the books of students who were killed in a car bomb attack in Kabul, capital of Afghanistan. (Photo by Rahmatullah Alizadah/Xinhua)
The death toll has risen to 50, while over 100 others were wounded in three successive explosions outside a girls' high school in Kabul, the capital of Afghanistan, the Afghan police confirmed on Sunday.
"The nature of one of the blasts was a car bomb explosion. Two other blasts were caused by improvised explosive devices (IEDs) placed at the same location," Kabul police spokesman Ferdaus Faramarz told reporters via a text message.
The incident occurred in front of Sayyed-ul-Shuhada High School in Etifaq Township, Police District 13, roughly at 4:30 p.m. local time on Saturday.
The attack occurred when students were leaving the building. Most of the victims were school girls while many passers-by were also affected.
No group has claimed responsibility for the attack yet. The Taliban militant group has denied the involvement of their insurgents in the incident and accused the Islamic State (IS) militants of the deadly attack.
Afghan President Mohammad Ashraf Ghani strongly condemned the attack and instructed the health officials to provide the best possible medical treatment for the wounded.