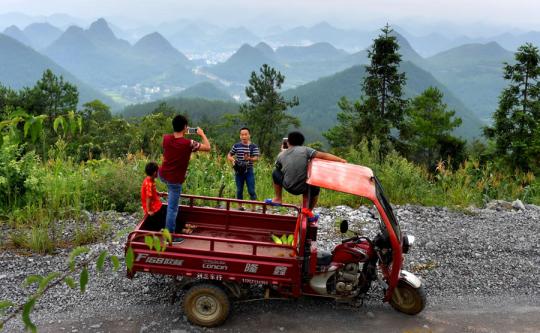 Local farmers in Songbai town, Hunan province, conduct online marketing via livestreaming platforms to lift themselves out of poverty. (Photo by Guo Liliang/For China Daily)
Special: NPC, CPPCC Sessions 2019
With two years left before the 2020 deadline of China's poverty alleviation campaign, there are still 16.6 million people living in poverty in about 500 counties across the country.
Almost a mission impossible to many other countries, it is almost in the bag for China, which has seen about 13 million people being lifted out of poverty each year on average since 2012.
The momentum in poverty relief has actually been maintained for more than 40 years-although driven by different factors in different times-during which about 740 million people have bidden farewell to grinding poverty, accounting for 70 percent of the global total who have been lifted out of destitution over the same period of time.
However, the last leg of the journey is the most difficult. Wherever they are, their poverty often has multiple causes-harsh natural conditions, poor infrastructure facilities, lack of public services and illness, among other things.
That dozens of grassroots civil servants are killed in accidents or natural disasters on their way to visit impoverished families in recent years speaks volumes about the tribulations that need to be overcome to complete these task.
Which is why President Xi Jinping-who worked his way up from village secretary and is familiar with pressure the community-level officials face in finishing tasks with a tight deadline-warned local governments not to seek quick success and brag about false achievements when he visited deputies to the National People's Congress from Gansu province, where poverty remains a big challenge.
It is noteworthy that Xi cautioned against the tendency toward the style of boasting and exaggeration of the Great Leap Forward, a campaign that wreaked havoc on the national economy in the late 1950s and early 1960s.
The auditing of poverty alleviation funds should be tightened and officials' performance be carefully assessed to deter them from cutting their feet to fit the shoes so as not to miss the 2020 deadline.
Thankfully, the central authorities have kept a cool head about the daunting task ahead, not only before 2020, but more importantly beyond that, as comparative poverty will long exist, and likely prove even more difficult to tackle.
Realizing the goal of eliminating abject rural poverty by 2020 will only raise the curtain for a new phase of China's struggle against poverty, which calls for the sustainable supply of customized public services rather than simply statistically focusing on poor people's incomes.