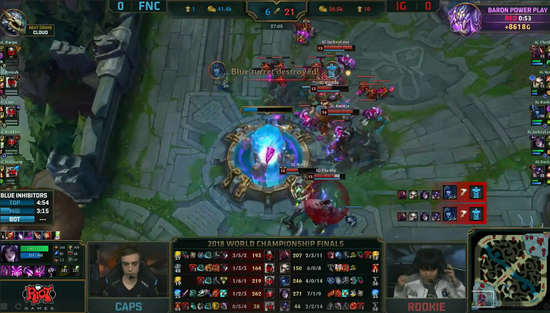 The first game between Chinese esports club Invictus Gaming and European club Fnatic. (Photo/Screenshot)
Esports enthusiasts looking to make a career out of their passion might soon find multiple paths open up to them, as China is mulling over recognizing esports event managers and players as new professions.
Altogether, 15 new professions including esports player, AI engineer, big data engineer and drone pilot are listed for public input, which will end on Jan. 31, said a statement by the China Employment Training Technical Instruction Center.
The statement said the preliminary list was a result a selection process carried out under the supervision of China's Ministry of Human Resources and Social Security.
The list went viral on social media, and many think it provided vindication for esports and some saying they now wanted to play video games for a living.
But some noted that a difference has to be drawn between esports fans and professional players.
"It is understandable that esports players are included on the preliminary list, but those in this category need to be true professionals rather than just video game fans," wrote Weibo user Yang Laosi.
The rapidly growing esports sector is drawing a lot of attention, but many are worried about the effect of gaming addiction on young people.
In addition, the inclusion of esports as a medal event in the Olympics has been uncertain, as esports is widely considered to be commercially driven and contrary to Olympic values.
Still, a total of six esports will be medal events at the 30th South East Asian Games in the Philippines in late 2019. Esports was for the first time included in the 2018 Asian Games as a demonstration sport, and could be a medal event in 2022 Asian Games in Hangzhou, China.
According to a report released in July 2018 by analyst CNG, China's esports market is expected to exceed 88 billion yuan (about 13 billion U.S. dollars) in 2018 and to increase by another 35 billion yuan in the next two years.