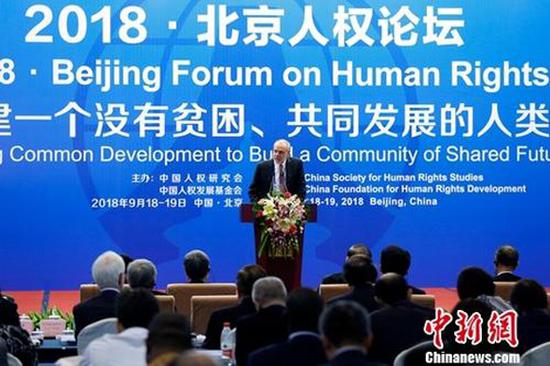 An expert addresses the 2018 Beijing Forum on Human Rights, Sept. 18, 2018. (Photo/China News Service)
Forum seeks to turn 'empty talk' into constructive global action
China highlighted the importance of poverty reduction in promoting human rights worldwide, as hundreds of officials and scholars from around the globe gathered in Beijing for the 2018 Beijing Forum on Human Rights, which concluded on Wednesday.
Despite progress over the last few decades, 700 million people worldwide are still living in dire poverty, with many developing countries grappling with hunger, disease and conflict, according to Huang Kunming, a member of the Political Bureau of the Communist Party of China Central Committee and head of the Publicity Department of the CPC Central Committee.
"Poverty is still the biggest challenge to the promotion of human rights across the world," he said on Tuesday at the opening ceremony of the two-day forum.
More than 200 participants were in attendance, including senior human rights officials, scholars and diplomats from nearly 50 countries or regions. The forum, the ninth of its kind since 2008, was organized by the China Society for Human Rights Studies and the China Foundation for Human Rights Development. The theme for this year was "Poverty Elimination: Seeking Common Development to Build a Community with a Shared Future for Human Beings".
Huang said that China has lifted almost 800 million people out of poverty since its reform and opening-up began in 1978, accounting for more than 70 percent of the world's total reduction of poverty.
China has combined the common principles of human rights and national reality, while seeking development during the period, and as a result Chinese people now enjoy better human rights development than in any other period in the county's history, he said.
Huang encouraged countries to seek their own development path for human rights in accordance with their country's specific conditions and the people's will, and expressed willingness to cooperate in poverty relief.
Huang Mengfu, chairman of the China Foundation for Human Rights Development, said poverty relief should be the priority when promoting human rights in developing countries.
"Human rights is empty talk in households that suffer from hunger and disease, and for those with no shelter or who are unable to send their kids to school," he said.
Sima Samar, chairwoman of the Afghanistan Independent Human Rights Commission, said poverty is at the root of many human rights violations and suggested that all countries make the eradication of poverty a primary objective while working to achieve the United Nations Sustainable Development Goals.
"This can be achieved only if we join hands, stand together and do not leave anyone behind," she said.
The forum followed the 2018 Beijing Summit of the Forum on China-Africa Cooperation, during which China pledged to help the continent with development and poverty alleviation.