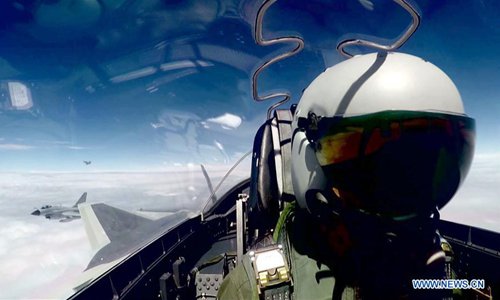 Undated file photo shows China's J-20 stealth fighter jets taking part in their first-ever combat training over the ocean. China's J-20 stealth fighter jets have begun their first-ever combat training over the ocean, a spokesperson confirmed Wednesday. The J-20 is China's fourth-generation medium and long-range fighter aircraft and was commissioned into air force combat service earlier this year. (Xinhua)
China's most advanced stealth fighter jet, J-20, has been sent to sea areas for combat training, the People's Liberation Army (PLA) Air Force spokesperson said on Wednesday.
"The J-20 has conducted a combat training mission in sea areas for the first time, and this has further strengthened the comprehensive combat capability of the PLA Air Force," PLA air force spokesperson Shen Jinke said.
Since the J-20 was enlisted in the operating forces of the air force, pilot training has been smooth, and the J-20 also trained with other fighter jets, including the J-16 and J-10C in simulated combat drills, Shen said.
"The J-20 is a multifunctional fighter jet, so apart from air combat, it also needs to be capable of attacking targets at sea and on the ground, which means training at sea area is essential," Song Zhongping, a TV commentator and military expert, told the Global Times on Wednesday.
"The J-20, which is the most advanced fighter jet in the PLA Air Force, needs to be able to finish missions under any weather condition," Song said.
Combat training operations at sea are a "compulsory course" for the PLA, no matter which unit, because the major demands for using military forces are all from the seas, such as the Taiwan Straits and the South China Sea, Song noted.
"The J-20's combat training at sea will help the PLA Air Force better execute its duty to safeguard national sovereignty, security and territorial integrity," Shen said.