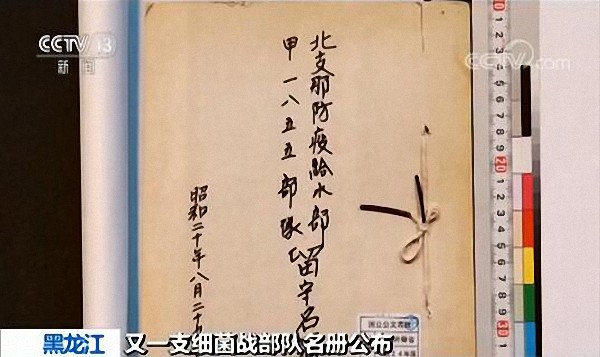 (Screenshot photo)
A name list of a covert Japanese unit for human experimentation during the anti-Japanese war was released for the first time by a Chinese exhibition hall in Harbin, Heilongjiang province, China Central Television (CCTV) reported.
Recently released for the first time, the list reveals the names, birth dates, nationalities, residences and immediate families of the members of Unit 1855, another biological and chemical warfare research base established in Harbin besides the notorious Unit 731.
It is so far the most complete name list of Unit 1855 to have ever been released.
The name list, compiled on Aug. 29, 1945, was collected by the National Archives of Japan, before being handed over to the Exhibition Hall of Evidences of Crime Committed by Unit 731 of the Japanese Imperial Army.
According to the curator of the exhibition hall, Jin Chengmin, Unit 1855 originally belonged to the central Epidemic Prevention and Water Purification Department of the North China Army of the Imperial Japanese Army.
It was established on Feb. 9, 1940 in Beijing, when the Japanese Emperor officially signed an organizational scheme of the unit, submitted by the General Staff Office of the Imperial Japanese Army.
The scheme suggested an 810-staff establishment for the unit. However, the size of its personnel expanded to 1,242, which indicated its high demand of human resources, hence the mass of activities it conducted in China.
Through research and studies of substantial historical data, experts found that Unit 1855 was supported by Unit 731 on both personnel and technological levels.
Unit 731 consisted of 3,497 staff members, including large numbers of doctors and elites from well-known medical institutions. It was a command center of Japan's biological and chemical warfare in China, Jin explained.
He said that human experimentation and bacteriological studies were Unit 1855's two main areas of research during the war.
Using human experimentation to strive for a quick win during warfare is a practice shared by all biological and chemical warfare research bases, Jin noted, adding that such practices are the largest provocation against humanity.
Information on an experiment into frostbite was also released this time, along with pictures of the unit's research and experiments conducted in Beijing. These valuable materials will be of great importance in the study of the unit's crimes and personnel structure.