Zhang Chengdong set to become first Chinese player to play in Liga BBVA
2015-07-23 09:19 Xinhua Editor: Gu Liping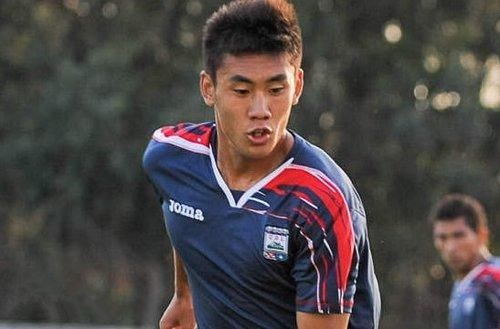 File photo of Zhang Chengdong
Spanish BBVA Primera Liga club Rayo Vallecano have signed Chinese footballer Zhang Chengdong, it was confirmed by Zhang's Chinese club, Beijing Guoan on Wednesday.
The 25-year-old winger will spend the coming season on loan at the Madrid based club and in doing so will become the first Chinese player to play in the Spanish Primera Liga.
The news became public after Gregorio Manzano, the coach of Beijing Guoan confirmed the move on his Twitter account, saying Zhang was a "good player and a great person."
"Good luck and we will wait for you when you come back," wrote Manzano, (who coincidentally counts Rayo among the many clubs he has coached) before the club also confirmed the move.
Zhang will not have to fly to Spain in order to get to know his new companions as Rayo Vallecano are flying to China on July 26th to begin a five-day tour in which they will take on another Spanish side, Real Sociedad, who are coached by former Manchester United and Everton boss, David Moyes.
Both of these sides are sponsored by the Chinese telecommunications company 'Qbao' who have stated that one of the aims of the sponsorship deal is to give an impulse to the coaching of young Chinese talent.
Rayo Vallecano will not be Zhang's first experience of European football given that the Chinese international has played for Portuguese sides Uniao Leria and Beira Mar and has also played for Eintracht Braunschweig in the German second division, helping the club gain promotion to the Bundesleague.
The news of this signing comes on the same day that Real Madrid are on the verge of signing Chinese youngster Lin Liangming with a view to incorporating the 19-year-old into their B-team, Real Madrid Castilla.