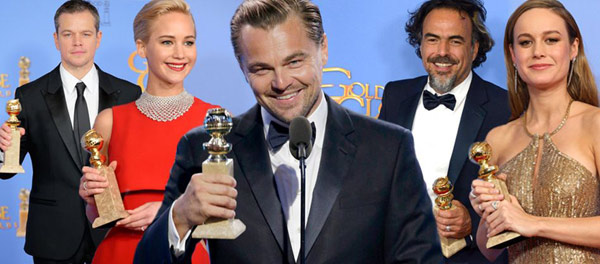 2016金球奖得主揭晓:小李子获封影帝
Golden Globes 2016 winners confirmed: Leonardo DiCaprio and Lady Gaga lead list
Actors Leonardo DiCaprio and Lady Gaga have led the winners at this year's Golden Globe awards.
莱昂纳多•迪卡普里奥和嘎嘎小姐在今年金球奖拔得头筹.
The actor - who is heavily tipped for his first Oscar this year - won the gong for best actor in a film drama for his role in The Revenant, beating rivals including Eddie Redmayne who was nominated for The Danish Girl.
莱昂纳多凭借他在《荒野猎人》中的演出斩获最佳男演员奖项,打败了埃迪•雷德梅尼等劲敌.埃迪凭借在《丹麦女孩》中的演出获得金球奖提名.坊间盛传小李子有望在今年夺得他人生中第一座奥斯卡奖杯.
DiCaprio received a pat on the back from producer Harvey Weinstein and a standing ovation from the crowd as he collected the award for best actor in a drama for The Revenant.
当小李子上台领取奖杯时,制片人哈维•韦恩斯坦兴奋地拍拍他的背,全场观众起立为他喝彩.
Arriving at the stage, he said: "What an incredible honour, that meant a lot. Two years ago we found ourselves submerged deep in nature with all its complications and all the beauty that it gave us cinematically.
站在舞台中央,莱昂纳多发言说:"这是无上的荣誉,对我意义重大.两年前当我们置身于荒野当中拍摄电影,我们深深地被大自然的美丽和庞杂所感染.
"This film was about survival, adaptation and the triumph of the human spirit and more importantly it was about trust."
"这部电影讲述的是在荒野中求生存、适应自然以及人文精神的胜利,更重要的主题是信任."
Pop superstar Gaga also took home the award for best actress in a limited television series or movie for her role as the villainous Countess in American Horror Story: Hotel. The Born This Way singer made an emotional speech as she was awarded a Golden Globe for her role in the HBO hit.
流行天后嘎嘎小姐凭借她在HBO热门短剧《美国恐怖故事:旅馆》中扮演的反面角色获得了最佳女主角的奖杯.当她上台领奖时,她的情绪很激动.
She said she wanted to be an actress before becoming a singer, but explained that "music worked out first" before adding: "I feel like Cher in the film Moonstruck. It's like one of the great moments of my life."
她称自己在成为歌手前本来是想当演员的,不过她的音乐事业先获得了成功.她还说"我感觉自己就像电影《月色撩人》中的雪儿.这是我人生中最精彩的时刻之一."