(ECNS) -- The Mid-Autumn Festival this year coincided with the ongoing 19th Asian Games on Friday, creating a unique atmosphere for athletes to experience Chinese culture in east China's Zhejiang Province.
Eating moon cakes, admiring the full moon, or watching performances added special vibes to the Games.
"I like moon cakes with lotus seed paste best. I tasted a moon cake with meat and mustard filling for the first time in Wenzhou, a co-host city of the Asian Games. They are very delicious," said Lim Yingxuan Venetia, a football player from Singapore.
Lim said Singapore also celebrates the Mid-Autumn Festival, and some local customs in her country are similar with Chinese culture, such as eating moon cakes.
Many foreign delegations boarded West Lake boats to enjoy the full moon and the unique Chinese romance.
Athletes from Laos, Bangladesh and other Asian countries sang their best wishes for the Mid-Autumn Festival.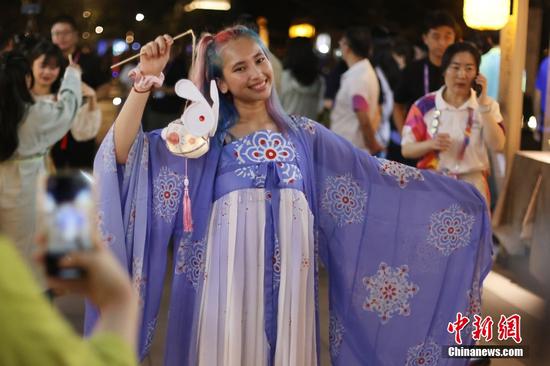 A foreign athlete dressed in ancient Chinese costume poses for a photo in the Hangzhou Asian Games Village, Sept. 29, 2023. (Photo/China News Service)
"It is my first visit to Hangzhou. The night West Lake is so beautiful! I feel Chinese people are very happy," said a Vietnamese reporter of the 19th Asian Games.
In the stadiums, music and songs containing moon elements enlivened the Mid-Autumn Festival atmosphere. Songs like "Hopes You Are There" and "Watching the Moon Rise" were broadcasted before a swimming contest.
Dances, acrobatics, folk music and other performances with Chinese characteristics were staged in the Asian Games Village, adding some festival vibe to the village.
At the volunteers service center, activities like making lanterns, sachets, Chinese knots, and paper cutting, etc, were held.
"This is the first time I have seen this kind of skill. It is very interesting. I came to Hangzhou not only for the competition, but also to learn about Chinese culture," said Thai fencer Bandhita Srinualnad.
In the Asian Games village of Wenzhou, more than 20 athletes and team officials from Nepal, Singapore and other Asian countries and regions, also gathered together for the Mid-Autumn Festival.
The village prepared some fans, with one side written in Chinese characters like Zhongqiu Kuaile (Happy Mid-Autumn Festival). Athletes were free to create their own image or words on the other side.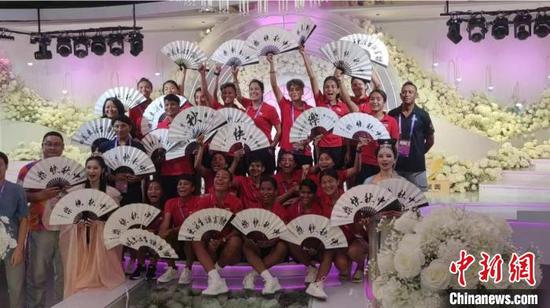 Foreign athletes experience Chinese culture in the Asian Games Village of Wenzhou, Zhejiang Province, Sept. 29, 2023. (Photo/China News Service)
A Nepalese athlete said the fan carries his beautiful memories of the Hangzhou Asian Games and the Mid-Autumn Festival. "I will take this fan home. Perhaps, I will study Chinese calligraphy in the future and create a better fan."