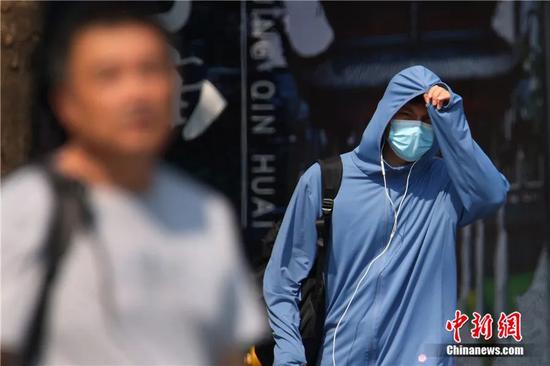 Photo taken on August 8, 2022 shows a man protects himself from scorching sun in E China's Nanjing City. (Photo: China News Service/ Yang Bo)
--An interview with Chao Qingchen, director of the National Climate Center
By Chen Su, China News Service (CNS)
(CNS)-- The year 2022 has brought frequent extreme weather worldwide. In March, an extraordinary heat wave hit India and Pakistan. Since June, persistent high temperatures in the United States have put about 90 million people under heat alerts. In July, temperatures in many European countries exceeded the historical extreme; Portugal experienced a record high temperature of 47 degrees Celsius (116 degrees Fahrenheit). Since this year's flood season, rainfall in many parts of South China has broken records, and a heat wave in the north has pushed temperatures above 40 degrees Celsius. The daily maximum temperatures recorded by 245 national weather stations exceeded the historical extreme in July. Affected by high temperatures, mountain fires and droughts have frequently occurred in the Northern Hemisphere, and the maximum electricity load in many places set a new record.
What is happening to the planet in 2022? Why has extreme weather been on the rise? Can humans still control climate change? CNS's "W. E. Talk" asked Chao Qingchen, director of the National Climate Center.
Excerpts from the interview:
CNS: Since this year's flood season, many parts of South China have been hit by continuous torrential rain, bringing serious floods. Recently, there have been more downpours in northern China. Meanwhile, high temperatures have persisted in most parts of China this summer, with high temperatures breaking the record in many places. What is causing these extreme weather events? Have extreme weather and climate events been on the rise in China in recent years?
Chao: Since June, most parts of China have been under the control of warm anticyclone and prevailing downdraft. The weather is dominated by sunny, less cloudy days, and the solar radiation is strong, which makes it easy for continuous high-temperature weather to form. In addition, under the climate circumstance of global warming, the average temperature increases and high-temperature weather occurs more frequently. Global warming will affect global high-temperature weather in indirect ways, such as changing atmospheric circulation and ocean and surface conditions.
On the whole, the weather in China is quite abnormal this year. The pre-flood season in South China was 16 days earlier than usual, with a long duration, large cumulative precipitation and strong precipitation extremes. Since the beginning of the pre-flood season in South China, the daily precipitation at several national meteorological stations in Fujian, Guangdong, Guangxi and Hainan provinces has exceeded the records for monthly historical extremes. From March 1 to July 31, precipitation in the Pearl River Basin was 86.4 millimeters more than in the same period of the year.
In recent years, extreme weather and climate events have frequently occurred in China. In 2021, the number of average hot days in China was 12.02 – 2.95 more than the annual average. Since the beginning of this year (from Jan. 1 to July 31) the national average number of hot days was 9.32 –, 3.38 more than the historical period (5.94 days), the most in the same period since 1961.