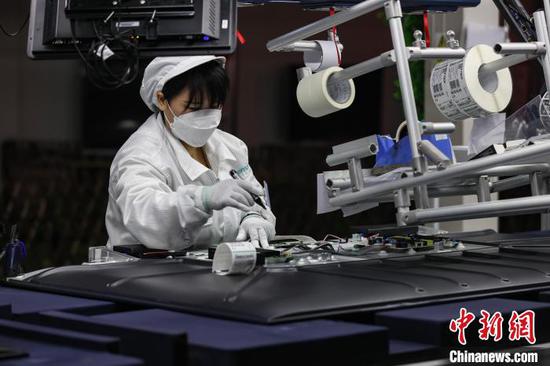 A worker assembles televisions in a production workshop of Hisense in Guiyang, Guizhou Province. (Photo provided to China News Service)
(ECNS) -- Some enterprises have won a lot of overseas orders, while the others said they have suffered setbacks, according to the results released by Chinese local governments.
Foshan business delegations from Guangdong Province targeting Japan and South Korea returned to China on March 5, bringing back export orders of over 1.2 billion yuan (about $ 174.23million), said Foshan Municipal Bureau of Commerce.
More delegations will be sent to Southeast Asia and Europe soon to strengthen their business ties with enterprises there, said Wu Huiying, head of the local commerce bureau.
"I hope that local companies can seize opportunities and integrate into the global market to make more achievements together with the government," said Wu.
Data from Xiamen Municipal Bureau of Commerce shows that as of February this year, some 104 Xiamen enterprises have attended more than 16 trade fairs in Hong Kong Special Administrative Region, America, Britain, Spain, Italy, and other countries and regions, covering luggage, shoes and clothing, building materials and hardware, maternal and child supplies, stationery, new energy and other fields, with intentional orders amounting to 560 million yuan.
However, some Chinese companies found there were difficulties in winning export orders due to changes in foreign markets.
"The foreign trade industry has been reshuffled, and many small and medium-sized enterprises fail to keep pace, as a result, some of them have been replaced and eliminated," said a person in charge of Anpeng Home Appliance, an electric appliance company based in Hangzhou, Zhejiang Province.
"It is necessary to expand the foreign market and find more business opportunities," the person added.
Liu Lei, founder of Flint Lighting, a Hangzhou company, has been on business trips since Jan. 4, trying to expand the company's overseas market.
"I did get some export orders, but not too many, and some small orders are no more than one million U.S. dollars," Liu said. He believes that more and more competitors and overseas inflation have squeezed the market demand for Chinese commodities.
"But I'm still confident in recovering orders to the level of 2019," said Liu, adding that confidence is more important than gold.
Yuhuan Kangyu Copper Co., Ltd., a foreign trade company producing bathroom drainage system products, has won over three million yuan of intentional orders at the National Hardware Show held in Las Vegas.
The orders have extended to April, but its general manager Zhao Kangyu said it is facing a crisis although it has won some overseas orders.
Zhao said some of their old customers have put forward many complicated requirements for production and they are trying to solve them, for example, the company spent over 300,000 yuan on a welding robot to improve the machining accuracy and production efficiency.