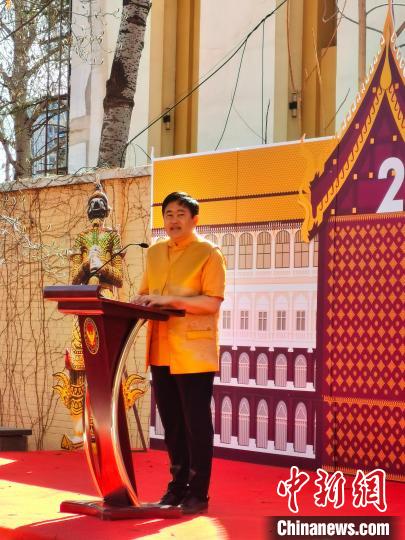 Thai Ambassador to China Atthayut Srisamut speaks at the opening ceremony of Thai Festival 2023 held in Beijing, March 12, 2023. (Photo/China News Service)
(ECNS) -- A Thai festival was held on Saturday and Sunday by the Royal Thai Embassy in Beijing, attracting guests and participants from Thailand, China and other countries.
With the theme of "Amazing Thailand, Amazing New Chapters," the event aimed to promote Thai culture, including its tourist spots, traditional food and clothing, TV series and other things. Visitors could taste Thai food at more than 20 food stalls, buy Thai products, watch Thai cultural performance, and participate in interesting games.
"This is my first time to eat Thai coconut sticky rice with mango. It tastes good," said a Chinese girl.
"Last year, I participated in this event and I'm glad to come here again. China has dropped restrictions on overseas tourists, and Thailand welcomes Chinese people," said Thai girl Ai Ling (Chinese name) who works in Beijing.
China and Thailand formally established diplomatic relations on July 1, 1975. China has been Thailand's largest trading partner for 10 consecutive years since 2013. In 2022, the bilateral trade volume between China and Thailand was about $135 billion.
China and Thailand have also established mutually beneficial cooperation under many frameworks, such as China-ASEAN Free Trade Agreement, Regional Comprehensive Economic Partnership agreement, Greater Mekong Subregion Economic Cooperation Program, Mekong-Lancang Cooperation, and the Belt and Road Initiative.