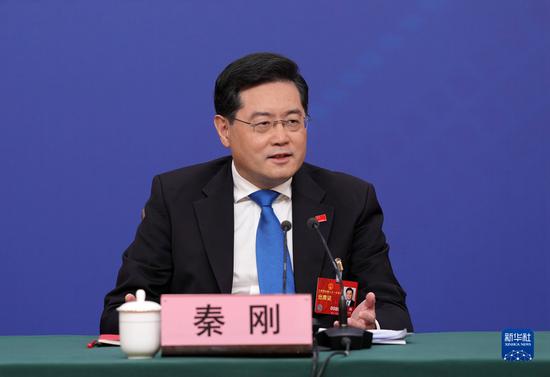 China's Foreign Minister Qin Gang speaks at a press conference, March 7, 2023. (Photo/Xinhua)
Special: Two Sessions 2023
(ECNS) -- China's new Foreign Minister Qin Gang held a press conference Tuesday to outline the country's foreign policies on the sidelines of the first session of the 14th National People's Congress, drawing the attention of foreign media.
The Guardian, Sputnik News, Reuters, Bloomberg, CNBC, and other foreign media reported China's foreign policies and relations, especially the relations with the U.S. and Russia.
Fyodor Lukyanov, editor-in-chief of Russia in Global Affairs and chairman of the Presidium of the Council on Foreign and Defense Policy, published an article on Russian media outlet RT, saying China is finally stepping up to its role as a superpower and this will change the world.
"A new era has dawned," he said, adding that China's diplomatic revival is intended to demonstrate that Beijing is not afraid to play a role in world politics.
Daily Times reported that China hopes the U.S. will explore the right way to get along with China that benefits both countries and the world.
Meanwhile, the new Foreign Minister Qin Gang has also become the focus of attention of foreign media for his personal charisma.
Chinese diplomacy is full of goodwill, but its diplomats will not hesitate to face down adversaries when confronted, Qin said on Tuesday, calling the term "wolf warrior diplomacy" a narrative trap.
Mr. Qin took a softer approach when speaking about the American people, differentiating them from American leaders and politicians, said The Strait Times, a media outlet of Singapore.
"The American people, like the Chinese people, are enthusiastic, friendly and simple, and they all pursue a happy life and a better world," the media outlet reported, citing Qin's words.
Qin's appointment as the new Chinese Foreign Minister could herald a gentler style of diplomacy, The Strait Times said, quoting analysts' comment.
The U.S. media outlet CNN said that Qin, who was until recently China's ambassador to the U.S., built up a reputation for being careful and accomplished diplomat while overseas.