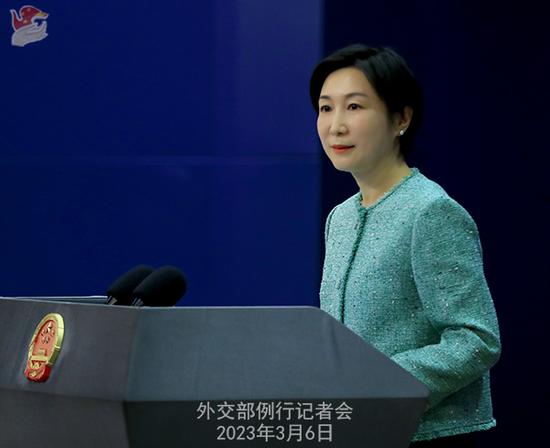 Chinese Foreign Ministry spokesperson Mao Ning speaks at a press conference, March 6, 2023. (Photo/fmprc.gov.cn)
(ECNS) -- The U.S. curbs and bans will not stop China's development, but will only strengthen China's resolve and capability to seek self-reliance and technological innovation, a Foreign Ministry spokesperson said Monday.
The spokesperson Mao Ning made the remarks at a regular press conference when answering questions about decoupling between China and the U.S.
According to Mao, increased curbs have triggered concern among the U.S. business leaders and institutions. They pointed out that the U.S. semi-conductor industry is highly dependent on the global supply chain, and that decoupling will not only be at odds with the laws of how this industry grows, but also cost the U.S. a great deal both economically and technologically.
Boston Consulting Group estimated that U.S. companies could lose 18 percent of their global market share and 37 percent of revenues if the U.S. completely bans semiconductor companies from selling to Chinese customers, resulting in a loss of 15,000 to 40,000 highly skilled jobs, said Mao Ning.
"There is nothing wrong with wanting to be in the lead on the high-tech front, but the right way to achieve it is through fair competition, rather than doing whatever it takes just to maintain its tech hegemony and deprive other countries of their right to development, still less should it seek selfish interests at the expense of the global industrial and supply chains and deal another blow to the already fragile world economy," the spokesperson said.
China's development has always built on its own strength, whether it is from the "Two Bombs and One Satellite" project to manned spaceflight, quantum communication, and BeiDou navigation system, Mao said.