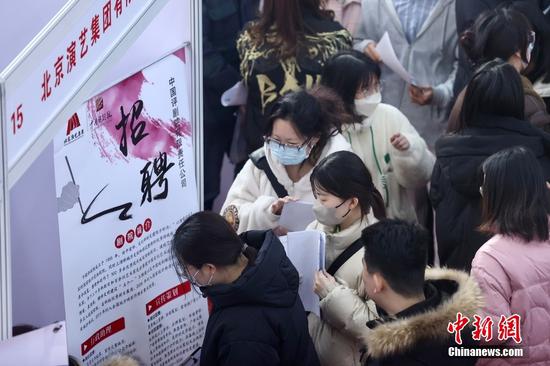 Photo shows a recruitment meeting held in a university in Beijing. (Photo/China News Service)
Special: Two Sessions 2023
(ECNS) -- China has confidence in creating 12 million new jobs in 2023, one million more than the target of last year, said Li Chunlin, vice head of China's National Development and Reform Commission (NDRC), on Monday.
The number of domestic college graduates and urban employment demand reached new highs amid a more complicated and severe external environment this year, and creating jobs and improving the quality of employment still face some pressures and challenges, said Li.
The target of 12 million new jobs this year shows our confidence and resolution in stabilizing employment, Li said.
According to Li, the NDRC will step up macro policy support to give priority to employment, mainly focusing on four aspects: broadening channels for creating market-based employment for college graduates, helping ease difficulties among enterprises and individual businesses, providing services for young people who seek employment, and encouraging them to start their own business.