(ECNS) -- The United States, as the most powerful nuclear weapon state, is supposed to follow a responsible nuclear policy, however, it has invested heavily in recent years to upgrade its nuclear triad, heightened the role of nuclear weapons in its national security policy and built up a network of military alliance around the globe, Chinese Foreign Ministry spokesperson Mao Ning said at the regular press conference on Friday.
Mao noted that the U.S. has also built small blocs reminiscent of the Cold War by bolstering extended deterrence and conducting nuclear submarine cooperation.
She pointed out that it is the U.S. who is the primary source of nuclear threat in the world, and the country should fully reflect on its nuclear policy, step up to its special and primary responsibilities of nuclear disarmament, and reduce the role of nuclear weapons in national security policy.
The spokesperson urged the U.S. to take meaningful, practical steps to reduce nuclear risks and act responsibly to maintain the strategic stability of regional and global peace and security.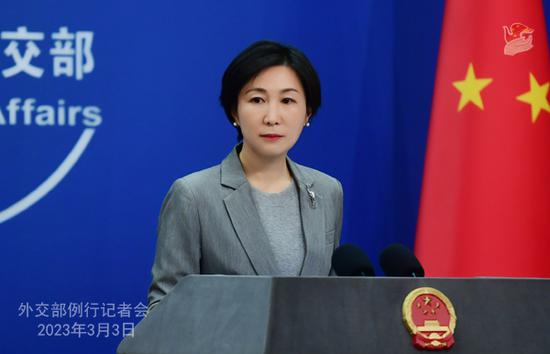 Chinese Foreign Ministry spokeswoman Mao Ning addresses a press conference in Beijing on March 3, 2023. (Photo/fmprc.gov.cn)
Calling China a "nuclear threat" is a convenient pretext for the U.S. to expand its own nuclear arsenal and keep its military hegemony, she said.
She underscored that China has always been extremely prudent and responsible about its nuclear policy, follows a defensive nuclear strategy and a policy of "no first use" of nuclear weapons, and keeps it nuclear capabilities at the minimum level required by national security.
China has strictly fulfilled its obligations on nuclear nonproliferation and followed a rational, coordinated and balanced approach to nuclear security. It is committed to the peaceful use of nuclear energy, and help the world benefit from nuclear energy as much as possible, Mao said.
She stressed that China values international cooperation on the peaceful use of nuclear energy, and has made important contribution to protecting the security of nuclear facilities and reducing the risks of nuclear proliferation.