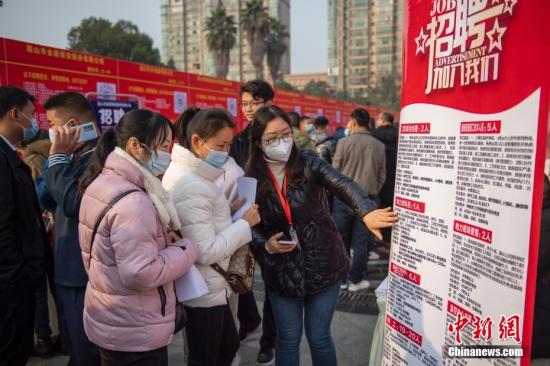 A job fair is held in Meishan, southwest China's Sichuan Province, Jan. 31, 2023. (Photo/China News Service)
(ECNS) -- With the national resumption of work and production, job demand has greatly increased across China after Spring Festival.
To recruit workers, companies are trying their best. In some areas, directors of local human resources promote recruitment policies themselves.
The competitiveness reflects a strong expectation of economic recovery in China, according to an episode of Topics in Focus, a commentary program on CCTV-13.
In southwest China's Sichuan Province, there is a small city named Suining, which is home to 1.609 million rural labor force, among whom 1.32 million were employed outside the villages or secured a job in the second or third industries, accounting for 82 percent of the total.
In recent years, thanks to the rural revitalization strategy and the local industry development, the city has seen a total of 40,300 people return to their hometowns for entrepreneurship, offering more than 200,000 people jobs here.
However, due to regional differences in employment environments, many people still choose to seek jobs in other cities to earn more money and provide a better life for their families.
Just after this year's Spring Festival, more than 70 companies from coastal provinces offered over 11,600 job vacancies in Suining's first large-scale job fair, with these companies also organized to recruit workers in nearby districts.
Huang Chao, deputy chief of the local migrant worker service center said that there is a more urgent demand for labor.
"The number of recruitment enterprises and job vacancies in Suining this year increased about 10 percent and 13 percent respectively from last year," he said.
After a hasty reunion meal on the evening of the Lantern Festival in Penglai town of Suining, Li Xiaoqiong and her husband left their hometown with their child the next morning.
At 7 a.m., Li headed to an electronics factory engaged in foreign trade. Before the pandemic, she and her sister had worked there for three years.
After the outbreak of COVID-19 in 2020, the factory's orders decreased and the work was interfered with, leading to unstable income. Sometimes they could only earn one or two thousand yuan a month.
Thus, Li and her husband decided to return to their hometown with their young daughter and took care of the family full-time. Her sister stayed in the factory to continue working.
But, recently, her sister told her that the factory's orders had increased, and income had grown more stable. To provide a better life for her family, Li chose to go out to work again this year. In this way, not only can they earn more money, but also bring their daughter with them to attend kindergarten in Guangdong Province.
Now, Li, her husband and their daughter have joined over 800 migrant workers on a special train organized by the local government to Guangzhou.
With adjustments to COVID-19 prevention and control policies in China, the economy is gaining momentum, and many migrant workers have prepared to go out to work. Some veteran employees even shoulder the task of recruiting workers for their companies.
The strong demand for labor resources reflects a positive signal for economic recovery, indicating that the economy is stabilizing an growing. It also gives hope to man migrant workers who could see their wallets grow and their lives thrive.