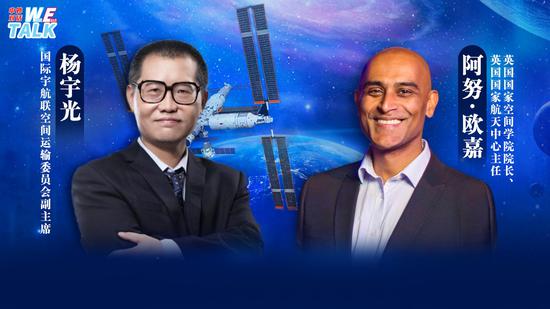 Special: W.E. Talk
(ECNS)-- An exhibition reviewing three decades of achievements in China's manned space program kicked off Friday in Beijing. Last year marks the 30th anniversary of China's manned space program, and a crucial year witnessing the completion of the construction of the Tiangong space station. As a national laboratory in outer space, it has opened a new chapter in space exploration for Chinese and all mankind.
What will the China space station bring to the world? How will it serve the interest of all mankind? In the latest W.E. Talk, Yang Yuguang, vice-chair of Space Transportation Committee at International Astronautical Federation and Anu Ojha, director of the UK's National Space Academy and director of the National Space Center were invited to share their views.
Yang Yuguang suggested that the China Space Station is not only a "name card" of the country, but also a very important platform for international cooperation. In the future, foreign astronauts are very likely to pay a visit to the China Space Station by the Shenzhou spacecrafts, and the space industry should be a field of common progress for mankind.
Space industry practitioners around the world all see the China Space Station as "a very impressive feat", said Anu Ojha. He also believes the station has tremendous potential as an international science platform and science can be a very powerful tool for building bridges on which we can build a better understanding for all of humanity.
Here are the excerpts of the dialogue:
China News Service: China has completed the construction of the space station in orbit with the delivery of all the 11 launches since the space station core module Tianhe launched in April, 2021. What's your comment on the achievement? What do foreign astronauts and scientists think about it?
Anu Ojha: Five years ago in Beijing, I was given a presentation by the China Manned Space Agency on the plan for the development of the China Space Station. The timeline went until 2022. China has hit all of those markers with no delay.
So this is a very impressive feat and it is seen as such by people within the space sector around the world and certainly amongst European astronauts, but also amongst astronauts from Roscosmos and amongst NASA from my understanding. Everyone is looking at the technical achievements and how China has progressed.
China News Service: The construction of the China Space Station has referred to the world's space technology development. What is its significance to China and to the world?
Yang Yuguang: First of all, the total mass of the T-shaped basic structure assembly of the China Space Station is more than 60 tons. So the size and mass are much smaller compared to the International Space Station (ISS). But its performance and functions have met the standards for the fourth-generation space station and are even superior to the ISS in some aspects such as power supply. It has been equipped with advanced power supply technologies like triple-junction gallium arsenide solar cells, with a capacity no less than that of the international space station.
Therefore, the China Space Station is generally in line with the status of China as a developing country, with moderate size, highly advanced performance and functions. It is not only of great significance to China's manned space missions, but also of great value to the development of China's high-tech field.
China News Service: What role do you think China's Tiangong space station will play in international space cooperation? Who will be its potential international partners?
Anu Ojha: I think the China Space Station has tremendous potential as an international science platform. And I was delighted to see the agreement in 2016, when China signed agreements with the United Nations Office for Outer Space Affairs, to work together to create opportunities for perhaps countries which until now had not participated in being able to conduct their research in orbit. Now, in the ISS partnership, we have 16 countries. But overall, since 2001, since we've had a continuous human occupation, we have now had scientific investigations with researchers from more than 100 countries. So it shows that an international platform can really have a scientific impact.
And I would like to see over the next few years, countries from, perhaps the newly emerging space economy or countries, which are now prioritizing space... They have people with the talent and the potential, but this gives them an opportunity to work with experienced Chinese and experienced international researchers to develop their experiments, to learn about operating them in the space environment, but also to have a new scientific understanding which we will share with the global community.
China News Service: What will be some of the criteria for international astronauts to enter the China Space Station in the future? How can Chinese and foreign astronauts cooperate, and what is the significance of their joint in-orbit work and life in the future?
Yang Yuguang: The selected astronauts should be very familiar with those scientific experiments and scientific projects, and capable of conducting correct operations in orbit or handling abnormal situations. Even, they themselves could be the designers of these experiments or participants in manufacturing such experimental equipment, and I think this is the most important requirement. What's more, astronauts both at home and abroad should, for example, carry out g-forces, field survival and other necessary training.
In addition, as we all know that all the equipment installed in the China Space Station is marked in Chinese. Therefore, it is inevitable that we may require our foreign participants to learn Chinese, which is actually an international practice. So we are looking forward to seeing qualified foreign astronauts in the China Space Station as soon as possible.
China News Service: Samantha Cristoforetti, the Italian astronaut posted several lines of a famous ancient Chinese composition on social media to share her joy while aboard the International Space Station and flying over China. And as far as you know, are foreign astronauts interested in learning Chinese?
Anu Ojha: I had discussed with ISS astronaut Samantha Cristoforetti already on her training with our astronaut Matthias Maurer on sea survival training in China. The training worked very well. And they speak very good Chinese.
We have placed ability in languages as being one of the fundamental criteria for selection.
I think there will be tremendous interest from astronauts if they are offered the potential to fly in an international mission sanctioned by their governments in partnership with China. And learning Chinese well is possible with the right language training support.
China News Service: Dr. Anu Ojha. You once had face-to-face communications with Wang Yaping, the first female taikonaut to work in China's Tiangong space station. What would you say about Chinese astronauts' working capability?
Anu Ojha: When I first met Madame Wang Yaping, this was after her first mission. And in her first mission, you may remember that she broadcast a school lesson from space to more than 60 million Chinese students, which shows the power that the astronaut can have as a vehicle for science engagement, especially for the next generation. Now what is interesting is that much more recently since then she has had her second space flight, a much longer duration space flight of 6 months. She became the first Chinese woman to do an EVA spacewalk. I saw the reaction when she completed her EVA, her spacewalk, she came back into the structure and the way she was greeted by her crew mates onboard.
This was the same as we have with Russian astronauts when they complete a spacewalk, with American astronauts, with European astronauts, with Japanese astronauts. And it just reminded me that for all of the differences that we may have politically, fundamentally for humans at the edge of human experience, in a very challenging environment, the reactions transcend any cultural differences. There will be political differences between different countries. This is a reality, but countries with different perspectives can come together. And I do believe that science can be a very powerful tool for space diplomacy, for building bridges on which we can build a better understanding for all of humanity.
China News Service: In the future, China's Tiangong space station can also be expanded with other capsules added. Apart from experimental payloads, do you think it's possible in the future to have foreign space capsules visiting China's space station? What will be some of the challenges they must deal with to achieve that?
Yang Yuguang: The points you have just mentioned are international cooperation at a higher level. At present, the joint experiments have already been in progress. For a higher level of cooperation, we may have foreign astronauts visit Tiangong by the Shenzhou manned spaceships in the future, which is highly probable. To have foreign spacecraft, whether cargo or manned spacecraft, visit China Space Station, is supposed to be the third-level cooperation. And the cooperation on modular level, the highest level, will be based on the accomplishment of other lower-level cooperations.
The key to the successful connection of a foreign spacecraft and China's Tiangong is to have compatible rendezvous and docking systems for both. Also, relative measuring equipment is needed. The process may be more complex, and needs a certain period to achieve. But if we managed to do so, it will be technically possible to have a module built by a foreign country to become a permanent part of China Space Station in the future.
China News Service: Space is the shared domain for mankind, but some countries have been blatantly hyping up the so-called "China Threat in Space" in the international arena. What's your comment on this?
Anu Ojha: We are in a century of profound changes. So different nations will be seeing the work of other countries through different prisms. In this way, I'm very pragmatic, but I do believe that common ground can be found. Scientific collaboration for the benefit of all of humanity is a very powerful unifying element. So this will not be easy, but I believe this is possible.
So having China's space station open for international collaboration with the correct frameworks helps address this capacity issue which the commercial market may be able to give. In 10 years time, we may have some small commercial free-flying space stations, but having the China Space Station which is much larger and with much more extensive laboratories onboard and laboratory racks, gives tremendous opportunities for the global science community over the next 10 years.
China News Service: How do you see the opportunities brought by the China Space Station for global space powers and for the endeavor in exploring the farther deep space by the human race?
Yang Yuguang: China has always regarded international cooperation as an indispensable aspect and factor to being an advanced country in the space field. China's Tiangong space station is a national laboratory in outer space, a "name card" of China, and also a very important platform for our international cooperation. In fact, it has offered more opportunities for cooperation with China for other space powers and superpowers. We have also offered more opportunities to more developing countries and emerging space economies to participate in international space exploration and space technology activities.
The ultimate role of space technology should be for the benefit of all mankind, not just a small number of countries. So in the process, we can get more developing countries, those without space capabilities in particular, or even without manned space capabilities, to join us. This is very important for a balanced development of all mankind,
Many friends and colleagues at home and abroad have said this. You can't see the borders of countries on Earth when you look at it from space. Therefore, space should become a field of common progress for mankind.