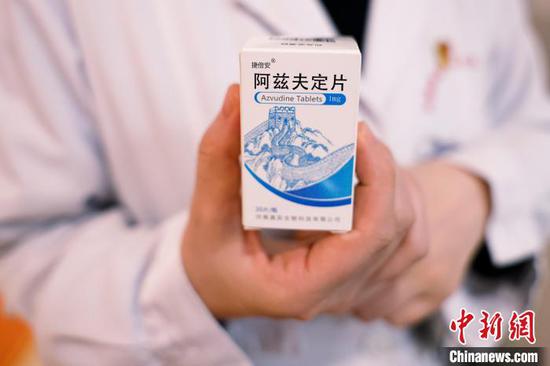 China's insurance authority and Henan Genuine Biotech reach a deal to include Azvudine in the public health insurance scheme, Jan. 8, 2022. (Photo/China News Service)
(ECNS) -- China's first oral anti-COVID-19 drug Azvudine will be covered by China's national medical insurance system after negotiations, China's National Healthcare Security Administration said Sunday evening.
Henan Genuine Biotech who developed the drug lowered the price in the second round of negotiation, making the whole process very smooth.
"We didn't feel a lot of pressure, to be honest, because we didn't give priority to making more money for our company. Instead we want to shoulder our social responsibility and make the drug more accessible to patients," said Liu Yong, vice president of Genuine Biotech.
"I did feel a little nervous after discovering the price gap in the first round of quotation," said Liu Yong, who then called the company's founder Wang Chaoyang to discuss their second-round quotation.
Wang told him to cut the drug's price and not to consider too much interest.
"We volunteer to cut the price and have made full preparations for the result. We participated in negotiations in order to make the drug more affordable to Chinese patients," said Liu.
The negotiations only involved the use of Azvudine tablets for HIV treatment. The drug was granted conditional approval by Chinese authorities to treat COVID-19 in July, 2022.
"Although negotiations are set to discuss HIV treatment using Azvudine tablets, they will affect the pricing of the drug to treat COVID-19," Liu Yong said.
"As long as we can accept the price, we'd like to give more benefits to patients. We don't want our senior and severe COVID patients to rely on foreign drugs," Liu added.