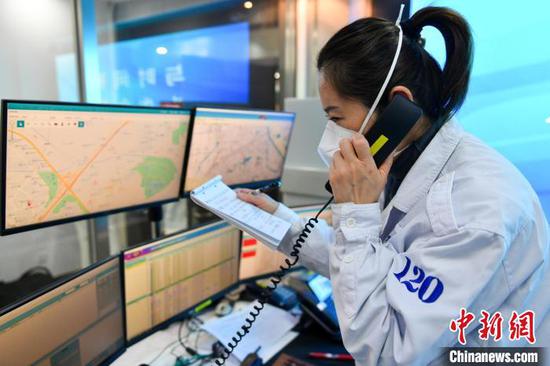 An operator disposes an emergency call at Beijing Emergency Medical Center in Chaoyang District. (Photo/China News Service)
(ECNS) -- The reception team of emergency calls for ambulances in Beijing has been expanded in Beijing in order to save more lives amid the COVID explosion this winter.
As emergency calls sharply increase these days, Beijing Emergency Medical Center decided to transfer all calls to Chaoyang District and dispatch ambulances according to patients' conditions after sorting out the information so as to leave medical resources to patients who need ambulances the most.
According to Chen Kun, head of Beijing Emergency Medical Rescuing Center, the center has expanded the emergency call reception team to 28 people from eight to shorten the waiting time of callers. Meanwhile, it has also increased the ambulances to 316 with 1,265 medical workers.
In the past week, Chaoyang District had dispatched ambulances for over 1,000 times on average every day, said Chen, adding that about one-third of the patients were critically ill. Most of them were the elderly with underlying diseases and having difficulties in moving or having to utilize emergency medical resources.
"We try our best to meet the needs of patients, especially to fully meet the needs of those in an urgent and critical situation," said Chen.
All emergency calls for an ambulance will be answered, but some have to wait, Chen said.
Jia Liqi, an emergency doctor at the Beijing Emergency Medical Rescuing Center, said that currently, medical workers on ambulances rotate 24 hours a day and each ambulance disposes of 10 emergency tasks on average, 18 tasks at most.
"We never flinch in the face of dangerous situations or complain when carrying out emergency tasks late at night," said Jia.
He noticed that the team will patiently appease patients and their families, inform families of the patient's condition when a patient is seriously ill, and try to minimize the pain of the patient and save lives.
Pre-hospital emergency doctors will try their best to send patients to the hospital safely as soon as possible so as to win more time for them, Jia said.