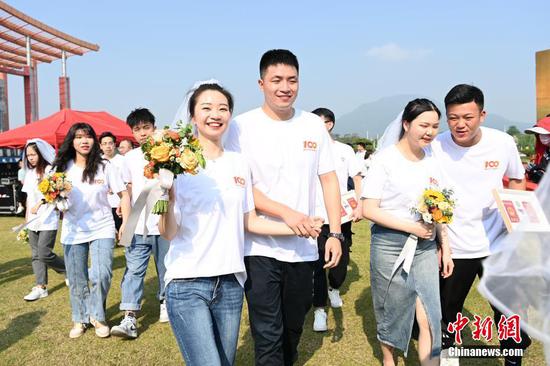 A collective wedding is held in ZHangzhou, Fujian, May 20, 2022. (Photo/China News Service)
(ECNS) -- The number of married people in China has been decreasing with first-time marriage age delayed and the number of single people expanding. Official data shows China registered 7.643 million marriages in 2021, below 8 million for the first time since 2003.
According to China Statistical Yearbook 2022, in 2021, there were 11.578 million people marrying for the first time in China, decreasing by 708,000 people over 2020. This is the first time that the number of first-time married people has fallen below 12 million in many years.
Guangdong and Henan ranked first and second, with the number of first-time married people of 987,400 and 921,200 respectively, followed by Jiangsu, Sichuan, and Shandong.
Compared with 2013, which has recorded 23.8596 million people marrying for the first time, the number has dropped by 51.5 percent in the recent eight years.
The decline in the number of first-time married people is attributed to many reasons, including the decrease in the number of marriageable people, postponement of the first-time marriage age, financial burden, and changes of the marriage concept.
According to China's census yearbook of 2020, the average age of first marriages is 28.67, 3.78 years older than that in 2010 (24.89 years).
Dong Yuzheng, a population expert in China, said young people's views on the necessity and importance of marriage and the social value of marriage and childbearing have changed. Some people don't believe marriage and childbearing are necessary and even believe that being single is freer, especially in large cities, Dong added.
Other factors like urbanization and financial pressure have also delayed the marriage age, and more and more people are getting married late or never. For instance, many well-educated people like post-graduates may graduate from school at the age of 25 or 26 and start working when they are close to 30.
Data released by the Ministry of Civil Affairs shows that the number of marriage registrations in China in the first three quarters of 2022 was 5.445 million, down 7.5 percent from the same period in 2021.
According to Dong, the decline in the number of married people will have an impact on future population development.
Concretely, both the birth rate and natural population growth rate will be affected and in the meantime, with the continuous improvement of people's average life expectancy, the population structure will further age.