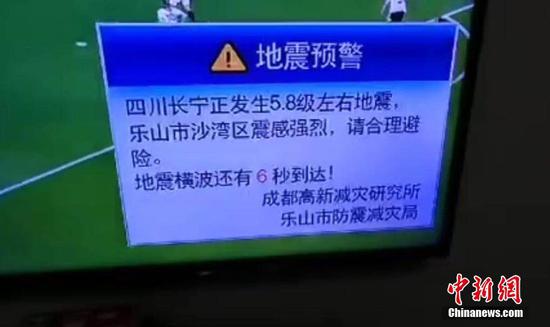 Photo shows a countdown warning on TV before an earthquake in Chengdu, southwest China's Sichuan. (Photo/China News Service)
(ECNS) -- Earthquake early warning with countdown in seconds and instant seismic intensity reporting in minutes will be realized in key areas across China by the end of 2023, according to the 2022 National Conference on Seismological Science and Technology.
The China Earthquake Administration announced at the conference that an earthquake science experimental field will be built in southwest China, focusing on the construction of the seismic observation network with high temporal and spatial resolution, seismic prediction application and an analysis platform, along with seismic disaster chain observation and an experiment platform.
The experimental field will be dedicated to achieving five scientific goals including medium and long-term prediction, short-term and imminent prediction, earthquake triggering, engineering structure response, and an earthquake disaster chain.
At present, the average time of China's automatic earthquake reporting is two minutes and China is leading the way in automatic reporting of earthquake parameters in the world, according to the conference.