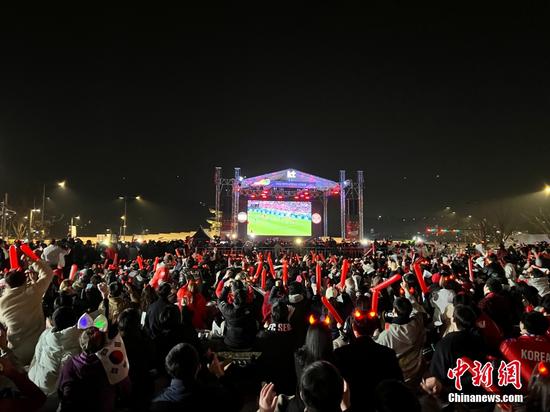 Photo shows the giant screen at the Qatar 2022 World Cup. (Photo/China News Service)
(ECNS) -- Semi-automated offside technology has been used at the FIFA World Cup 2022 in Qatar starting on Nov. 21 to offer help for referees make faster, more accurate and reproducible offside decisions.
The new technology uses 12 dedicated tracking cameras mounted underneath the roof of the stadium to track the ball and up to 29 data points of each individual player, 50 times per second, calculating their exact position on the pitch.
The inertial measurement unit sensor placed inside the ball will send ball data to the video operation room 500 times per second, allowing a very precise detection of the kick point.
AI will analyze collected data and finish offside judgement in a few seconds, while video match officials receive alarms for reference.
A 3D animation that details the position of a player's limbs will be played on the large screen and televisions across the pitch.
Semi-automated offside technology has been trialed at numerous test events at FIFA tournaments, including the FIFA Arab Cup 2021 and the FIFA Club World Cup 2021. It has shortened the time for checking offside play from 75 seconds to 25 seconds.