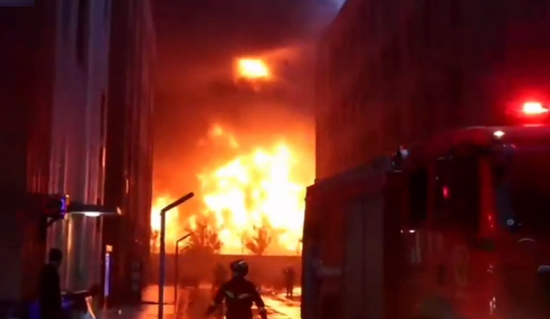 Photo shows the fire accident occurred at the plant of Kaixinda Trading Co in central China's Henan. (Screenshot Photo)
(ECNS) -- A witness of the fire that occurred at the plant of Kaixinda Trading Co in central China's Henan recalled her narrow escape on Tuesday, saying some survivors had cut fence wires and jumped over the wall to escape the disaster.
Wang Xue (alias), a survivor, was working in the garment factory on the west side of the plant's second floor when the fire broke out from the east side. At first, Wang and her colleagues heard continuous explosions. Her boss asked them to evacuate immediately after discovering intense smoke.
They rushed down the stairs, but the fire was so fast they couldn't escape from the east gate. One of the employees then got a ladder, cutting the fence wires on the west wall and calling everyone to jump off.
"The wall is over one meter high, but the small mound outside helped us, or we would be trapped in the fire," said Wang.
Wang works for a garment factory specialized in long underwear. Employees are mostly women who do part-time jobs after finishing their farming duties. Due to COVID-19, coupled with the lack of work this season, employees in the factory were not as many as usual.
According to Wang, several companies were affected by the accident, including three factories producing underwear.
Nearby shop keepers said the fire started at around 4 p.m. on Monday. An owner of a grocery store said he saw smoke first and then heard explosions. After half an hour, the fire had spread out of control.
Local authorities sent a total of 240 people and 63 vehicles to join the rescue effort, with the fire put out by midnight.
The death toll has risen to 38, authorities said Tuesday.