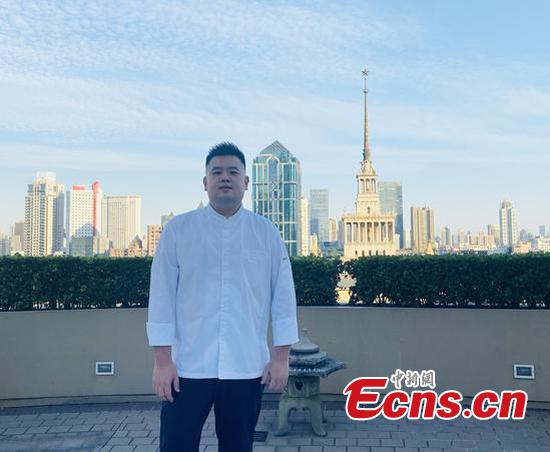 Chia Jue Xian, executive chef of the Portman Ritz-Carlton in Shanghai. (Provided by the interviewee)
Special: Battle Against Novel Coronavirus
By LI Jiajia
(ECNS) SHANGHAI -- In the Nanyang Community in Jing'an District, Shanghai, residents would call Chia Jue Xian from Singapore when their refrigerator is running empty.
Chia Jue Xian is the executive chef of the Portman Ritz-Carlton in Shanghai, known to his neighbors as the "Shanghai Regiment Leader." During his three years of working in Shanghai, he has managed to form a close contact with many local food suppliers. During the period of the lockdown, his working relationships have helped him and his neighbors to get through the difficult times.
"Many of my neighbors are foreigners, and their Chinese is not that good, so they have some difficulties in purchasing food and vegetables. And I happen to have known many suppliers with meat, vegetables and other resources, so I could get in touch with them to order food stuff according to the neighbors' individual needs,"he said.
For his own line of work as the executive chef, Chia Jue Xian prefers to shop offline, especially when it comes to purchasing food, vegetable and ingredients. For chefs, he says, it is a good habit to see with their own eyes the freshness and quality of the products. As a result, he did feel a bit of pressure when he decided to take up the important role of "the head" for the local community. He even went through some struggle at the beginning, as it was his second nature to be "choosy" about food, and yet the closed management and control of the community and the city made it impossible for him to visit the sellers to check the real condition of the food. The only thing that Chia Jue Xian could do was to keep on reminding the suppliers that they must ensure the quality and safety of the food supplied.
Besides, Chia Jue Xian has a wealth of experience in the selection, preservation and the quantity to be stored. Although he has never disclosed his professional role to his neighbors, sometimes he cannot help giving some guidance. "For example, for a family with only a young couple, I would advise them how much food to buy, how to allocate it for different days, and how to pack and store the food when it arrives," he said.
Chia Jue Xian said that he could quickly come up with a figure of what is a reasonable quantity, "I would try my best to help everyone to control their demand and refrain from overstocking, and avoid waste too."
Occasionally, they managed to buy lettuce stems, which many foreign neighbors didn't know how to prepare. Then Chia Jue Xian the chef would put his expertise to good use, by searching for short cooking videos and post them in the social media group. "The simpler the video, the better."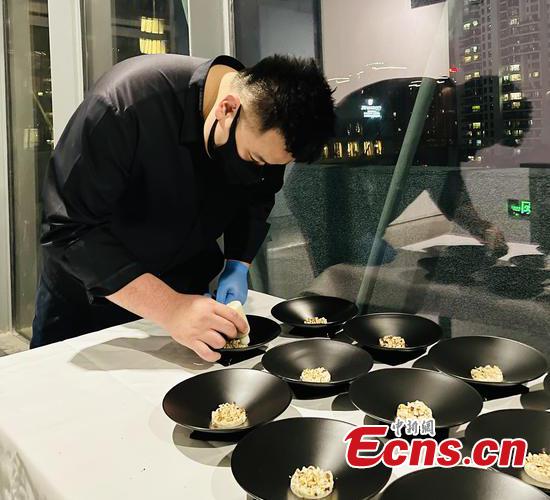 Chia Jue Xian, executive chef of the Portman Ritz-Carlton in Shanghai. (Provided by the interviewee)
"The Nanyang community neighborhood has a concentration of foreigners, including Italians, Koreans, and Thais. They haven't had much interaction before. This time, however, the strict management against the epidemic has actually facilitated our direct communication, and there have even been exchanges of food stuff to help one another. I am deeply touched," said Chia Jue Xian. He recalled that supplies were very scarce on March 30. "I heard that a neighbor was short of eggs. So I quietly left 10 eggs at his door. A few days later, I discovered 4 or 5 tomatoes placed at my door!"
Even though he is a chef, Xian would occasionally scratch his head what to cook for himself during the lockdown period. "I would cook some Singaporean dishes such as porridge with dried meat, pork ribs soup with white pepper, white onion and radish, stir fry potatoes with luncheon meat and ketchup, steamed eggs with minced meat topped with soy sauce, etc. These are all the dishes my grandmother made for me when I was a child, but I haven't had them for a long time. During this special period, it's an unforgettable experience to share with my family."
"During the epidemic, I have come to realize that nothing should be taken for granted. Cherish what we have and be grateful," he said. Staying at home has also given him the chance to better understand and appreciate his wife. "My toddler is now two and a half years old. During this period, I have undertaken a lot of baby care, only to realize that it is hard work to bring up the baby," he added.
Chia Jue Xian said that he has only one very simple wish now. After the lockdown is lifted, he would ride his bicycle to the Bund with his kids for a good walk. "Even if the lockdown is lifted, we should remain vigilant of the virus," he said with a smile. "If the epidemic has changed anything, it must be our daily habits. Now washing hands, frequent disinfection, and wearing masks seem to have become part of my DNA."