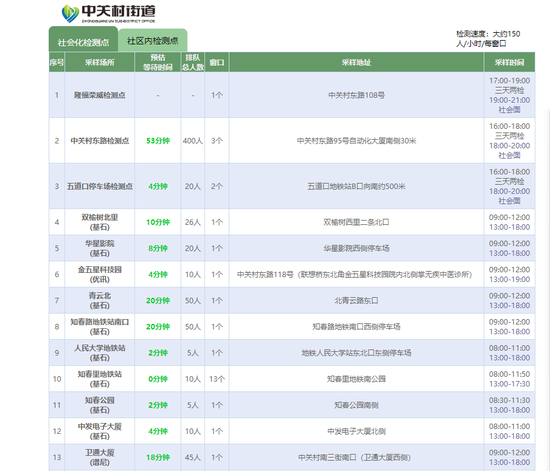 Screenshot of the mini app from the WeChat account of Zhongguancun neighborhood
Special: Battle Against Novel Coronavirus
(ECNS) -- A mini app showing the waiting time for the nucleic acid testing was launched by the Zhongguancun neighborhood in Haidian District of Beijing.
Residents can enquire how many people are queuing for nucleic acid testing and how long they need to wait at designated nucleic acid testing points in real time and share their findings via QR code.
The interface of the mini app is very concise. It divides nucleic acid testing points into two categories: inside the community and outside. Besides, it has listed the addresses of all designated testing sites, beginning time of sampling, and the number of windows for sampling.
This mini app was programmed by the Institute of Automation of Chinese Academy of Sciences.
"It cost us about one night," said Wen Dayong, an associate research fellow from the institute as well as the main app developer.
"Besides the waiting time, we also developed a backstage management platform for further improvement, hoping to make contributions to this Covid fight with our expertise," Wen added.
The mini app has been put into use already.